Spain king plot suspect wanted over police death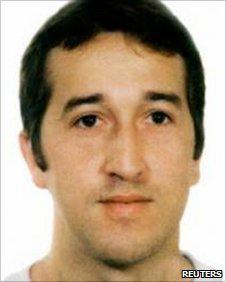 A man arrested in the UK over a plot to kill the king of Spain is also wanted over the death of a police officer, his arrest warrant shows.
Eneko Gogeaskoetxea Arronategui, an alleged member of the Basque separatist group Eta, is accused of plotting to kill King Juan Carlos II in 1997.
The Spanish national, who was living in Cambridge under the name Cyril Macq, is wanted for extradition in Spain.
The 44-year-old computer programmer has not commented about the allegations.
He lived with his partner and two children and was a prominent member of the local squash club.
But details have now emerged about the arrest warrant used to detain him earlier this month.
The Adminsitracion De Justicia in Spain claim Mr Arronategui was part of a gang which tried to kill the king in Bilbao in 1997.
The grenade attack failed but a police officer was killed near the city's Guggenheim Museum as he tried to apprehend the gang.
The arrest warrant document claims anti-tank grenade launchers were taken to the museum and hidden in the surrounding gardens.
It adds: "Before they managed to place the other two window boxes, they were asked by members of the autonomous police to identify themselves and justify their stay.
"In this instant, they used the pistols that they were carrying, killing the member of the (police).
"Eneko Gogeaskoetxea managed to flee, forcing (the drivers of two cars by) intimidating them with the pistol he was carrying."
Police later raided a farmhouse in Olagorta, near San Sebastian, and found anti-personnel grenades.
The cache of weapons included other grenades and batteries, timers and starting systems for grenades.
Police also found phials of mercury, gunpowder, detonators, two anti-tank grenades, five cylinders containing a kilo of explosives each and a further 10 anti-tank and two anti-personnel grenades, the warrant says.
Mr Arronategui is accused of attempting to assassinate the king, terrorism resulting in death, keeping weapons and explosives, being part of an armed gang and theft of vehicles.
He is due to appear on a video link at Westminster Magistrates Court on 25 July for his next extradition hearing.
Mr Arronategui is thought to be fighting the warrant to extradite him.
Eta (Euskadi Ta Azkatasuna) has campaigned for independence for the Basque region of northern Spain since 1968.
During that time at least 800 people - mainly police and army officers have been killed - but Eta has failed to win any concessions from the government in Madrid.
Eta, which is thought to have been weakened by arrests and an erosion of support among the Basque people, declared a ceasefire last year but it was dismissed by Spanish Prime Minister Jose Luis Rodriguez Zapatero, who said it did not go far enough.