Missile warheads stolen from Romanian train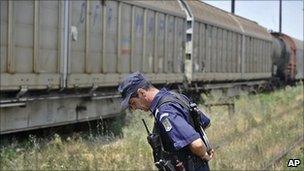 Romanian officials have reassured the public after the theft of more than 60 missile warheads from a train.
The warheads were taken from a railway car carrying military equipment to neighbouring Bulgaria on Saturday.
Officials said the stolen warheads could not be detonated because they were in component form without explosives.
Investigators say the missiles could have been stolen for their scrap metal value.
Romanian media said when the freight train stopped in Giurgiu, southern Romania, it was found that doors on the railway car had been forced and four boxes of 16 warheads stolen.
Officials are investigating how the theft could have happened while the consignment was being guarded by paramilitary police.
Bulgaria's economy ministry said the warheads belonged to Grad missiles which are normally fired from multiple-rocket launchers.
In a statement it said the shipment was part of a transfer of "nonfunctional components and parts" for reprocessing at the VMZ factory - one of Bulgaria's largest military factories - in Sopot.
Romanian officials close to the investigation told two daily newspapers that the warheads did not contain explosives.
Romanian police spokesman Florin Hulea also reassured the public, saying the warheads posed no risk.
Related Internet Links
The BBC is not responsible for the content of external sites.