Russia nursery bomb blast injures five-year-old girl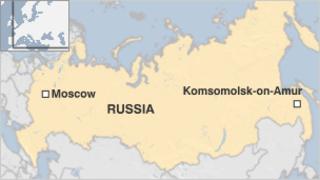 The Russian interior ministry has ordered police to check all schools and nurseries after a five-year-old girl was injured by a parcel bomb.
The device - which arrived at a nursery in the far eastern city of Komsomolsk-on-Amur - only partially exploded.
The girl was taken to hospital with severe burns to her hands and eyes. She opened a gift box tied with a ribbon.
It contained explosives equivalent to 7kg (15lb) of TNT, but failed to fully explode. It also contained nails.
A 27-year-old man from the city has been arrested and detectives say he has admitted the attack.