Turkey issues arrest warrants for seven top officers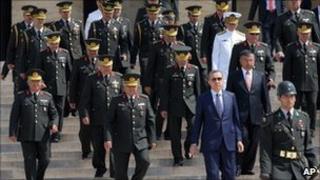 A Turkish court has ordered the arrests of seven generals and admirals accused of trying to undermine the government.
They have been under investigation for their alleged involvement in setting up anti-government websites in 2009.
Gen Nusret Tasdeler, head of the army's educational command, and Gen Ismail Pekin, the general staff's intelligence chief, are reportedly among them.
Dozens of other senior officers are in detention over a separate investigation into an alleged plot to provoke a coup.
Four top military commanders, including the Chief of the General Staff Gen Isik Kosaner, resigned 10 days ago in protest at the jailing of officers as part of the investigation into "Operation Sledgehammer".
The conspiracy is alleged to have been drawn up in 2003 at the Istanbul base of the First Army, shortly after the governing Justice and Development (AK) Party - which has Islamist roots - came to power.
It reportedly involved plans to bomb mosques and provoke tensions with Greece, causing political chaos and justifying a military takeover. Officers say it was only a contingency plan based on scenarios of unrest.
In the past, the army has regarded itself as the guardian of the secular Turkish state. It has overthrown or forced the resignation of four governments since 1960 - the last time in 1997.
In his farewell message, Gen Kosaner said he could no longer bear to stand by while comrades languished in jail, victims of "flawed" and "unjust" prosecution cases. Officials say the probes are strengthening democracy.
The officers whose arrests have been ordered are expected to hand themselves in to the authorities in the coming days.