Yushchenko testifies against old Orange ally Tymoshenko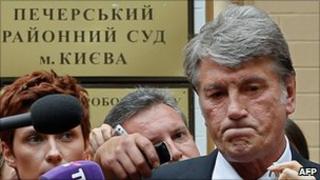 Ukraine's former President Viktor Yushchenko has testified in court against Yulia Tymoshenko, his erstwhile Orange Revolution ally.
Mrs Tymoshenko is being tried in Kiev on charges of exceeding her authority while prime minister, in signing a gas contract with Russia two years ago.
If found guilty she could face up to 10 years in prison.
Mr Yushchenko's arrival in court triggered angry scenes among scores of Tymoshenko supporters outside.
Cold stare
He told the court that the 2009 gas agreement had been a "political" deal which continued to inflict economic damage on Ukraine.
With Mrs Tymoshenko staring at him across the courtroom, he said the basis for the deal - signed after talks between Mrs Tymoshenko and Russian Prime Minister Vladimir Putin - had been "a political scenario" rather than an economic calculation.
"Russia needed an obliging leader," he added.
Mr Yushchenko's evidence appeared to support the prosecution's case that Mrs Tymoshenko had rail-roaded Ukraine's state gas company into signing a deal which saddled the country with an excessively high price for Russian gas, Reuters news agency says.
Mrs Tymoshenko said she disagreed with Mr Yushchenko's testimony but declined to argue with him in court.
"I don't want for the Orange Revolution to go on trial in this court," she said.
One of her supporters then shouted at Mr Yushchenko using an expletive and was expelled from the courtroom, the Associated Press reports.
When he emerged back into the street, Tymoshenko supporters chanted "shame" and pelted his black Mercedes with eggs as he departed.
Faint echo of 2004
Mr Yushchenko and Mrs Tymoshenko were once allies, the BBC's David Stern reports from Kiev.
They came to power in the 2004 Orange Revolution, a mass protest which overturned fraudulent presidential elections.
But Mr Yushchenko and Mrs Tymoshenko quickly became bitter rivals, and Ukraine's government was paralysed with their infighting, our correspondent says.
In 2010, Mrs Tymoshenko was defeated in the presidential elections to Viktor Yanukovych, who was the loser six years earlier.
Some observers fear that the court case against her is an attempt by the Yanukovych government to remove her now as a political opponent.
Earlier this month, Mrs Tymoshenko was found in contempt of court and placed under arrest.
Her supporters have set up a tent city outside the courthouse, a faint echo of a sprawling tent city that was erected during the Orange Revolution, our correspondent says.