Man arrested in Moscow over murder of Yuri Budanov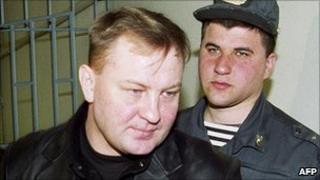 A Chechen man has been arrested in Moscow over the murder of Yuri Budanov, the former Russian colonel jailed for a notorious murder in Chechnya.
Magomed Suleymanov, 41, was arrested on suspicion of aggravated murder and illegal possession of a weapon, a court spokeswoman told Russian media.
Budanov's killing by a gunman in Moscow on 10 June shocked Russia.
He had left prison two years earlier after serving most of his sentence for the murder of a Chechen teenager.
Convicted of kidnapping and strangling Elza Kungayeva, whom he claimed was a sniper, he was one of the few Russian army officers prosecuted over abuses committed during Russia's two campaigns against Chechen separatist rebels.
The young woman's murder provoked outrage in Chechnya, where many civilians died at the hands of Russian forces and pro-Moscow militia during the long war against rebels.
Budanov's own assassination, in daylight beside a children's playground, caused revulsion in Russia.
CCTV posted by Russian media apparently shows the gunman following Budanov just before the shooting, as well as the gunman and an accomplice later abandoning their getaway car.
'Eight shots'
Investigators believe Mr Suleymanov plotted the shooting with persons unknown on 2 April this year, court spokeswoman Olga Sutyapova told the Russian court news website Rapsi.
They say the alleged plotters worked out a plan to establish Budanov's daily pattern and choose the best place, time and weapon for killing him.
A car was acquired with fake number plates along with a converted gas pistol, a silencer and bullets, investigators say.
On the day of the murder, the plotters are said to have followed Budanov when he left his home on Komsomolsky Prospekt, an avenue in central Moscow.
Mr Suleymanov himself is accused of carrying out the fatal shooting, firing eight rounds into the victim.
No motive for the attack was cited in the Russian report.