French Socialist rivals face off at summer conference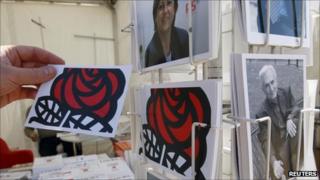 Rivals for the French Socialists' 2012 presidential ticket have traded barbs in the run-up to a party conference, six weeks before the primaries.
Party leader Martine Aubry said the party had been "an object of pity" before she took over from ex-leader and primaries favourite Francois Hollande.
But Mr Hollande pointed to his wide lead in one opinion poll, saying he was "seen as someone who may actually win".
However his ex-partner, Segolene Royal, cast doubt on the poll.
All three are standing in the race, which will be decided over two rounds on 9 and 16 October.
The contest has been clouded by the sex scandal involving former IMF chief Dominique Strauss-Kahn, who was seen as a strong contender for the Socialist ticket before his arrest in May effectively ended his chances of standing.
Some believe he may still influence the race but one senior party figure who talked to AFP news agency remarked: "DSK [as he is nicknamed] will pass messages but he won't swing things one way or another."
Competing claims
The party is holding its summer conference in the western sea port of La Rochelle haunted by the fear of new public squabbles of the kind that have tarnished its reputation in recent years, a report by the centre-right newspaper Le Figaro notes.
In addition to Ms Aubry, Mr Hollande and Ms Royal are competing for the nomination along with three others: Arnaud Montebourg, Manuel Valls and Jean-Michel Baylet.
"When I took over the Socialist Party we were an object of pity," Ms Aubry told France Inter radio. "We were not ready to rule."
The former labour minister and daughter of former European Commission President Jacques Delors said she was "best placed to represent a project" for France.
But an Ifop survey published by Le Monde newspaper suggested Mr Hollande would win 42% at the first round of the primaries against Ms Aubry on 31% and Ms Royal on 18%.
Mr Hollande, who has never held government office, urged candidates to behave "responsibly".
"I am a bit more responsible than the others because, more than them, I'm seen as someone who could actually win," he was quoted as saying by AFP.
Ms Royal dismissed the Ifop poll because it was based on a sample of only 404 likely voters, and thus had a wide margin of error.