Croatian ex-Premier Ivo Sanader charged with corruption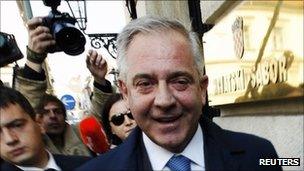 The authorities in Croatia have charged former Prime Minister Ivo Sanader with corruption over a loan he negotiated in 1995.
He is alleged to have received a kickback worth nearly $695,000 (£425,000; 480,000 euros) for the loan from the Austrian bank Hypo.
He is said to have facilitated Hypo's entry into the Croatian market.
Mr Sanader, who was extradited from Austria in July and may face other charges, denies any wrongdoing.
At the time of the loan, he was serving as deputy foreign minister.
Croatia was still fighting its war of independence from Yugoslavia and therefore had trouble accessing the international markets, the BBC's Balkans correspondent, Mark Lowen, reports.
Other anti-corruption investigations he faces include one which involves the Hungarian oil firm MOL. He denies wrongdoing.
The former prime minister is the most high-profile figure arrested in Croatia's recent anti-corruption drive, our correspondent notes.
The country is under pressure from the EU to show it is tackling the problem, which flourished across the region during the Yugoslav wars of the 1990s.
Croatia has concluded membership talks with the European bloc and is set to join in July 2013 but a monitoring mechanism has been put in place to ensure it pursues its anti-corruption efforts.
With Bulgaria and Romania deemed to have joined before they could prove they had tackled similar problems, Brussels is keen to show it has learned its lesson, says our correspondent.
Related Internet Links
The BBC is not responsible for the content of external sites.