Polish Jewish memorial marking massacre vandalised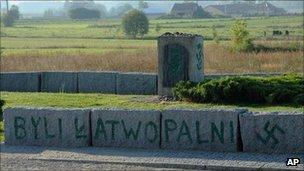 Vandals in Poland have defaced a monument marking the spot in Poland where hundreds of Jews were massacred during World War II.
They wrote on the memorial's walls: "I'm not sorry for Jedwabne" and "They were highly flammable".
Swastikas were also drawn on the monument.
The monument remembers the victims of the attack on 10 July 1941, when some 340 Jews were rounded up and led to a barn, which was then set alight.
"This is a perfect example of vandalism and stupidity, but we don't know the exact motives yet," said Andrzej Baranowski, police spokesman in the nearby city of Bialystok.
The incident is the latest in series of recent anti-Semitic and xenophobic acts, reports say.
Before World War II, Poland was home to about 3.5 million Jews, the largest Jewish community in Europe.
Some 90% of them were murdered by the Nazis during the Holocaust.
A government investigation confirmed Poles - and not Nazi Germans - were to blame for the Jedwabne killings.
Related Internet Links
The BBC is not responsible for the content of external sites.