Amanda Knox appeal: Police defend case evidence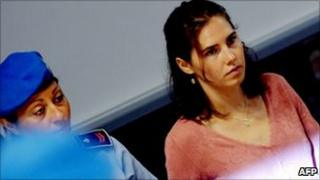 Italian police have defended in court the evidence used to convict Amanda Knox of the murder of British student Meredith Kercher in Italy in 2007.
Forensics officer Patrizia Stefanoni said DNA tests were carried out behind glass screens to avoid contamination.
An independent review had questioned the quality of the evidence presented.
Knox, 24, and her ex-boyfriend Raffaele Sollecito, 27, are appealing against their convictions for killing Miss Kercher, 21, from Surrey, in Perugia.
Genetic profile
The appeal hearing has resumed after proceedings were halted at the end of July for the summer recess.
The independent review of the DNA samples concluded that much of the evidence in the original trial fell below international standards and may have led to contamination of the samples.
It also concluded that it was impossible to get an exact genetic profile because of the risk of contamination and the low amounts of DNA used for the testing.
However, Ms Stefanoni said DNA analyses were conducted from behind a glass wall and some of the quality standards referred to were introduced after she produced her report for the case in May 2008.
In a letter read out to the court, scientific police director Piero Angeloni described the technology used as being world-class and said the officers were highly experienced.
Exchange year
Much of the argument in the appeal hearing has centred on a kitchen knife which the prosecutors believe to be the murder weapon.
In the first trial, prosecutors maintained that Knox's DNA was found on the knife's handle and Miss Kercher's DNA was found on the blade. They also said Sollecito's DNA was found on the clasp of Miss Kercher's bra.
Miss Kercher, a Leeds University student from Coulsdon, was living in Italy as part of an exchange year abroad when she died.
Knox is serving a 26-year sentence for Miss Kercher's murder while Sollecito, an Italian, was sentenced to 25 years. Both deny any wrongdoing.
Rudy Guede, 21, was also convicted of Miss Kercher's murder in a separate trial and is serving a 16-year term.
The appeal verdicts are expected by the end of September.