Turkey suspends Israel defence ties over Gaza aid raid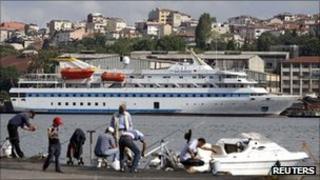 Turkish PM Recep Tayyip Erdogan has said his country is suspending all defence ties with Israel.
The move follows the expulsion of Israel's ambassador over its refusal to apologise for the 2010 raid on a flotilla of activists heading for Gaza, in which nine Turks were killed.
A UN report has concluded that Israel used "excessive force" in its raid, but that the naval blockade was legal.
Turkey has vowed to take the case to the International Court of Justice.
Based in The Hague, the ICJ is a permanent UN court set up to rule on state-to-state disputes.
In reality, experts say it is unlikely Turkey will be able to take Israel to the ICJ since, under court rules, Israel would need to give its consent for the action to be heard.
Mr Erdogan said Turkey was "totally suspending" defence ties with Israel, after downgrading diplomatic relations with the country.
"Trade ties, military ties, regarding defence industry ties, we are completely suspending them," he told reporters in Ankara. "This process will be followed by different measures."
Turkey expelled the Israeli ambassador on 2 September and also suspended military co-operation with Israel last week.
Israel has expressed regret for the loss of lives.
But Mr Erdogan described the raid as "savagery" and accused Israel of acting like "a spoiled boy" in the region.
Co-operation
A US state department spokeswoman expressed concern over the row between the two countries, urging them to "de-escalate" their dispute.
"Our emphasis with both the government of Turkey and the government of Israel is to hope that we can de-escalate, we can defuse, and we can get them back to talking about improving their relationship," Agence France Presse quoted spokeswoman Victoria Nuland as saying.
The two countries have had substantial military co-operation during the past two decades, but that has decreased in recent years, says the BBC's Jonathan Head in Istanbul.
If there were any doubts about Turkey's attitude to its once-lucrative defence arrangements with Israel, Mr Erdogan has dispelled them, he says.
However, most of the deals with Israeli companies, like the upgrading of Turkey's US-made jets and tanks, have already been completed.
The last of 10 advanced drones, or unmanned aircraft, have been delivered, and Turkey does not plan to buy any more. But it may still need Israeli technical assistance to operate those drones, which play an important role in the war against Kurdish insurgents, adds our correspondent.
Turkey's manufacture of Israeli-designed armoured vehicles - essential equipment for the soldiers fighting in the south-east - could also be affected.
In the past, the Turkish armed forces might have been able to stop such a break in relations with their Israeli counterparts.
But this year, the generals are for the first time firmly under the thumb of a civilian government, which is determined to show its displeasure with Israel, says our correspondent.
'Unreasonable' force
The nine pro-Palestinian activists who died were on board the Turkish-flagged ship, Mavi Marmara, when it was intercepted by the Israeli navy in international waters as it sailed towards Gaza's coast on 31 May 2010.
At the time, the Israeli military said its commandos fired live rounds only after being attacked with clubs, knives and guns. But activists on board said the commandos started shooting as soon as they hit the deck.
The UN inquiry found Israel's naval blockade had been "imposed as a legitimate security measure in order to prevent weapons from entering Gaza by sea and its implementation complied with the requirements of international law".
It said Israeli troops had faced "significant, organised and violent resistance from a group of passengers" and were therefore required to use force for their own protection.
But it also said Israel's decision to board the vessels "with such substantial force at a great distance from the blockade zone and with no final warning immediately prior to the boarding was excessive and unreasonable".
The report noted "forensic evidence showing that most of the deceased were shot multiple times, including in the back, or at close range".