Workers sidelined by German economic success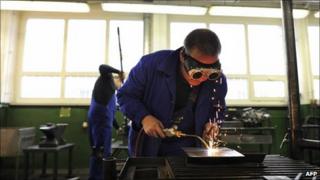 Germany is one of the very few European countries to have emerged convincingly from recession - but not everyone is sharing in the rewards.
By keeping wages low the country has stayed competitive, sold exports and fuelled growth. But those on the low wages are feeling increasingly squeezed.
Iris Heinrich is what is known in local social security-speak as an aufstocker, someone in part-time work (30 hours a week in an office canteen) whose income is officially deemed insufficient for her and her teenage son.
So she gets top-ups from the government towards rent and costs, amounts which she describes as inadequate for a "humane" existence.
When I meet her in the centre of her home city, Essen, she comes armed with carefully tabulated lists of her outgoings and her income, highlighting the differences between what the German government says her heating, telephone and food bills should be and what they actually are without, she says, the slightest hint of luxury.
In the past, Iris has also - briefly - been unemployed. She says she felt aimless and miserable and that she has no desire to go back there. The problem is that her work simply does not pay enough.
She is one of a growing number of contract employees, paid by an agency and not directly by her place of work. And, after tax, she says she takes home less than four euros (£3.40; $5.40) an hour.
She describes how every supermarket purchase (she would not think of looking beyond the likes of discount stores Aldi or Lidl) is a fraught calculation.
"I actually ask myself why I bother to get up every morning to go to work for the 50 euros a month extra I get for it," she tells me. "Strictly speaking, it just isn't worth it."
Mini-job boom
Ms Heinrich's case and those of hundreds of thousands like her are relatively new in Germany.
There has been a consistent fall in unemployment since the summer of 2009 but many of those in work today are, nevertheless, on the breadline.
The very latest export figures may not be quite the raging success story to which German manufacturing has grown accustomed since the recovery.
Still, heavy industry was never allowed to wither away in Germany and German products have had a significant revival on world export markets - enough to help boost the national economy and boost employment.
And yet, with the new employment has come extensive deregulation of the labour market.
It was modelled very much on Tony Blair's British example when it was brought in by then-Chancellor Gerhard Schroeder in 2005.
A key element was making it easier for employers to hire staff and to fire them.
It meant the creation of so-called mini-jobs - free of national insurance and pension - and a fast increase in the numbers of leiharbeiter - agency contract workers like Ms Heinrich. But, perhaps surprisingly, it did not mean the introduction of a national minimum wage.
Flexibility
Minimum wages do exist in certain industries, specifically negotiated with the unions, who have a reputation not just for power in Germany, but for their willingness to compromise.
Many argue there has been too much compromise recently from union representatives keen to exchange rising incomes for job security.
Professor Hans-Juergen Andress, of Cologne University and co-author of The Working Poor in Europe, says Germany no longer bucks a European trend and that wage inequality is catching up with other countries less renowned for their interest in social justice.
"Germany has polarised," he says.
"What is also striking, in the last year, is that workers' incomes haven't increased, at least not as much as the export victory for Germany in the world.
"Especially given the huge increases at the upper end of the income distribution, ordinary Germans increasingly ask, 'How can we participate in the national success?'."
The boss of one of the country's most successful manufacturing exporters told me he was aware of the social problems associated with the leiharbeiter system - but that he was grateful for the flexibility it afforded him.
Andreas Widl is CEO of Oerlikon Leybold Vacuum, which is a global concern employing around 400 workers in Cologne alone, and which enjoyed its most lucrative export period ever in the first half of this year.
"I strongly believe in sharing the success with the staff, those who have created that success," he says.
"But on the other hand, if things go down, I need to be able to reduce working capacity. And the leiharbeiter model just works."
Under the previous system, he says, "the fixed terms of employment are so rigid that you cannot adapt anything. If the company gets into a problem, there are very few other ways of reducing costs."
Poor cousins
The government itself is sensitive to the fact that temporary, contract workers are the poor cousins, in terms of the pay they receive, of staff workers doing exactly the same jobs.
And the labour ministry is keen to point out that it is "putting pressure" on those who employ the leiharbeiter to give them equal pay.
On whether the country needs a national minimum wage, in this week's Spiegel news magazine, Ursula von der Leyen, Germany's minister for labour and social affairs, says she is convinced that Germany will set one "sooner or later".
"Many employers," she says "are already demanding it because they want to compete on quality and not on how low they can drive wages.
"However, one condition I would attach is that the figure for a minimum wage be fixed by negotiation between those involved, and independently of the state.
"We must not allow the level of a minimum wage to become a political football."
The political arguments seem remote to Iris Heinrich, struggling on her combination of benefits and part-time job.
"It's all about the bigwigs getting more and more money and the little citizens like me getting less," she says. Across Europe, hers is becoming a familiar refrain.