Hungarian toxic chemical sludge spill firm fined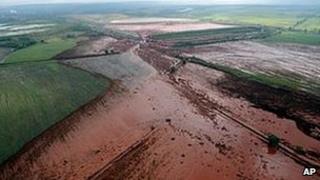 An aluminium producer in Hungary has been fined 472m euros (£410m) over a spillage of toxic sludge last year.
Ten people died and serious damage to the environment was caused by the leak at a MAL Zrt plant in early October.
A government statement said the fine reflected the unprecedented volume of hazardous material released when reservoir walls were breached.
Some 700,000 cubic metres (184 million gallons) flooded out. The company has two weeks to pay the fine or appeal.
"MAL Zrt will be obliged to pay a fine of over 135 billion forints for the environmental harm caused during the operation of the red mud reservoir," the ministry of rural development said on its website.
The alkaline substances - a byproduct of aluminium production - flooded into nearby towns and villages and across agricultural land in western Hungary.
It eventually spread across an area of 40 sq km (over 15 sq miles) and reached the River Danube, injuring more than 150 people.
Officials said it was Hungary's worst chemical accident but the firm was allowed to resume production barely two weeks after the accident.