Apple drops 'Jew or not Jew' app in France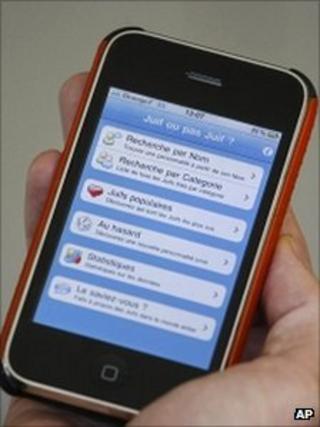 US computer firm Apple has withdrawn a mobile phone application called Jewish or Not Jewish from its online store in France.
The application allowed users to find out whether celebrities and public figures were Jewish or not.
Anti-racism group SOS Racisme said it was illegal because French law did not allow the compilation of personal data without the individual's consent.
Developer Johann Levy, who is Jewish, said the app was "recreational".
Mr Levy said there was nothing sinister about his application, which is still available outside France.
"I'm not a spokesman for all Jews, but as a Jew myself, I know that in our community we often ask whether such and such celebrity is Jewish or not," the 35-year-old Franco-British engineer told Le Parisien newspaper on Wednesday.
"For me, there's nothing pejorative about saying that someone is Jewish or not," he said. "On the contrary, it's about being proud."
He said he compiled information about some 3,500 people listed in his app by using various online sources.
French laws enacted after World War II ban the compilation of information about religious affiliation without permission. Doing so is punishable by up to five years in prison and a fine of 300,000 euros (£260,000).
In June, Apple had to remove an Arabic-language application from its App Store called ThirdIntifada, after Israel said it incited violence.