Spanish Basque activist Arnaldo Otegi jailed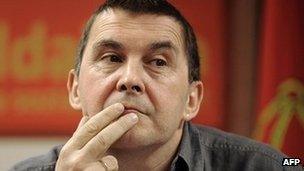 The former leader of outlawed Basque independence party Batasuna has been sentenced to 10 years in jail.
Arnaldo Otegi was convicted of trying to rebuild Batasuna, which had close links to the armed Basque separatist group Eta.
More than 800 people were killed during Eta's 40-year campaign of bombings and assassinations, mainly in Spain.
During his trial, Otegi insisted he had rejected the use of violence to obtain an independent Basque homeland.
The 53-year-old can appeal against his conviction by Spain's National Court.
He had previously been jailed for 15 months for promoting terrorism and was freed in 2008.
He was rearrested the following year in connection with the current case and has been in prison ever since.
Batasuna was banned in 2003 by the Spanish government, which regarded it as the political wing of Eta.
The Eta group waged a campaign of bombings and shootings aimed at achieving an independent Basque homeland from the late 1960s onwards.
It is classified as a terrorist organisation by Spain, the European Union and the US.
Otegi was one of the main architects of failed peace negotiations between Eta and the Spanish government from 2006-2007.
Eta declared a ceasefire in September last year and has not carried out an attack on Spanish territory since August 2009.