Greek PM presses EU leaders for new bailout tranche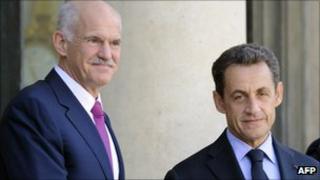 The Greek prime minister has had a day of talks with fellow EU leaders on a new bailout tranche Greece needs to avoid bankruptcy in October.
George Papandreou met French President Nicolas Sarkozy in Paris after talks with European Council chief Herman Van Rompuy and others in Warsaw.
International inspectors are in Athens to decide whether Greece should receive the 8bn euros (£6.9bn; $10.9bn).
Mr Sarkozy said he would now meet with Angela Merkel in "the coming days".
He said following the meeting with Mr Papandreou that he and the German chancellor would hold fresh talks on how to tackle the Greek crisis.
Mr Sarkozy said Mr Papandreou had assured him of the "total determination of the Greek government to scrupulously put in place all commitments that Greece has taken on."
'Charm offensive'
Protesters forced the rescheduling of a meeting in Athens on Friday morning between the inspectors from the European Union, European Central Bank, the International Monetary Fund, and the Greek government.
Public anger in Greece continues over austerity measures including a new property tax, and demonstrators have publicly burnt copies of emergency tax notices outside a tax office in the country's second city, Thessaloniki.
Meanwhile, the expansion of a general bailout fund for the eurozone looks on track for approval.
Jean-Claude Juncker, head of the eurozone group of finance ministers (Eurogroup), predicted all of the euro states would have endorsed the expansion by mid-October.
Mr Juncker was speaking to Reuters news agency after the lower house of Germany's parliament backed the European Financial Stability Facility (EFSF) on Thursday in a vote which tested Chancellor Angela Merkel's credibility.
Austrian MPs backed the expansion on Friday, with only the parliaments of Malta, the Netherlands and Slovakia left to cast their votes.
In June, the European Council proposed expanding the size of the EFSF rescue fund from 240bn euros (£209bn; $326bn) to 440bn, and giving it new powers, such as allowing it to buy government bonds.
Analysts have suggested the fund actually needs to expand to 1-2 trillion euros in order to win market confidence, but EU officials have played down such reports.
The BBC's Chris Morris in Athens says Mr Papandreou is on a charm offensive, trying to convince his European colleagues that Greece can meet the demands imposed upon it by a tough austerity programme.
The unpopular reforms are vital to guarantee the international loans offered by a troika of the European Commission, the European Central Bank (ECB) and the International Monetary Fund (IMF).
Since eurozone leaders agreed on a second rescue package for Greece this summer, Athens has fallen behind on its debt reduction targets, raising fears of a Greek default.
Many Greeks believe that austerity measures are pushing the country's crippled economy deeper into recession and strangling any chance of growth.
President Sarkozy has said he will unveil a Franco-German strategy shortly, without giving details.
Germany and France together represent about half of the 17-nation eurozone's economic output.
German Foreign Minister Guido Westerwelle said that with Thursday's vote in the German parliament: "The signal to our European partners is that you can rely on Germany."
Talks disrupted
Our correspondent says some analysts believe the whole strategy for Greece, with a possible second bailout, needs urgent readjustment.
That is partly because contagion from Greece to other eurozone countries is no longer a threat but a dangerous reality, he adds.
The troika's team of inspectors found its second day of talks in Athens disrupted on Friday after protesting civil servants occupied the transport ministry, where they had been due to meet the minister, Yannis Ragoussis.
"Take the austerity package and get out of here!" the civil servants shouted as they stood in front of the shuttered entrance, according to a Reuters news agency report.
The meeting with the minister was rescheduled as a result.
Angry protesters against the government's austerity measures have been causing disruption in the Greek capital for months.