Seine reveals her secrets to Paris River Police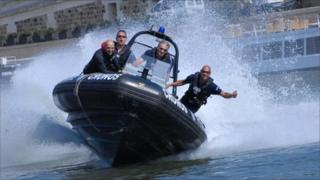 The River Seine in Paris is for many people the most romantic stretch of water in the world. But for the Paris River Police it is a place of work - rescuing or recovering people who end up in its waters and searching for discarded criminal evidence.
The Brigade Fluviale have been working their unique beat for more than 100 years.
The day shift starts with a 3-km (1.8-mile) swim in the river, around the Ile de la Cite, where Notre Dame cathedral is located.
"It's very hard today," says Pascal Jacquin as he emerges from the cold, dark water.
He is an expert diver and boat handler who has worked for the Fluviale for 27 years. Three times a week he joins the junior officers for the early-morning swim.
Survival instinct
The Brigade Fluviale know the Seine better than anybody else, particularly its dangerous currents which can suddenly pin a diver to the bottom or sweep them far downstream.
For Mr Jacquin, his morning swim is a way of understanding the river and renewing his relationship with it.
"[It's] like communion with the river, she lets me be with her," he says.
"You have to keep up with the river because it's what we work with and we need to know what she feels today.
"She's like a woman, you have to care about her, you have to feed her, you have to touch her - we need to know her mood today."
The elite squad are all divers, swimmers and boat handlers as well as armed officers.
Their most important role is what they call intervention, going to the aid of someone who has fallen or jumped - or is about to jump - into the river.
They have found that when people hit the water, survival instinct often takes over.
"It's like a reflex," says Mr Jacquin, recalling a call-out to a woman they found clinging to the Alexandre III Bridge.
"She was having a bad moment of life - I don't know what about. The moment she was in the water she probably realised it was just a bad moment, but she could not get out without us.
"She was so beautiful I wanted to say to her 'why are you here?'"
Two days later they got another call to the same bridge.
"That was the bizarre thing, a guy was holding exactly the same piece of rope in the water, in the same exact place. He was an old guy, 75 or something."
Unlike the young woman they rescued, the old man could not stop talking.
"He was melting in excuses. He was so sorry saying 'I lost my wife a week ago, I can't live without her, I tried to kill myself because my life is finished but I can't do that. I'm so sorry to have bothered you'.
"I said, 'are you kidding me, you're not bothering us, we're doing our job, we feel sorry for you. I know it's hard for you but it's going to be ok'. It was so nice."
Fingertip searches
Eric Calvet is in charge of the evening patrol, the time of day when things tend to happen. He and his team survey the river banks while a group of people party by the water's edge.
"Alcohol is the problem," he says, before he is interrupted by a call. A young woman is reported to have thrown herself into the Seine from the Pont de la Concorde.
The highspeed boat gets them to the bridge in seconds while that night's designated diver puts his kit on. The rest of the team stand on deck with torches, checking the bridge's pillars to see if anyone is clinging to them.
Soon they spot a young woman on the bridge being comforted by a friend. She is dressed for a night out, but looks pale and distraught.
A passer-by had persuaded her not to jump and she is now surrounded by police - Eric and his team can withdraw knowing she is safe.
Another important part of their job is recovering criminal evidence, which can range from guns to gold.
One case Mr Jacquin is particularly proud of involved a gang who had taken a hostage, then tortured and killed the man.
The ringleader threw the victim's watch, a fake Rolex, off the Pont St Michel and, when the gangster was caught, the watch became vital evidence.
It was a tough ask to find it, he says, as there was zero visibility in the river. It was the middle of winter and the freezing cold divers had to do a fingertip search of the river bed.
"When it happened it was winter and really high water and impossible to find the thing. But we kept looking and we found it," he says.
Another time they were charged to find a gun that had been used to pistol-whip a victim.
"We found the gun two days after and there was a piece of skin in the trigger, so it was proof," Mr Jacquin explains.
"I mean you don't like what you find, but you know this is the end of the story, this guy will go to jail for a long time. It's a good thing to finalise and bring an answer to a mystery."
Underwater Gendarme begins on BBC Radio 4 Sunday, 16 October, at 14:45 BST.