Teacher dies in France after setting herself on fire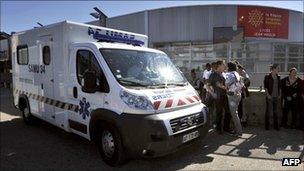 An apparently depressed maths teacher in southern France has died after setting herself on fire in the playground of her secondary school.
Students and teachers rushed to help the woman, 44, after she doused herself with petrol during morning break and set herself alight.
She was airlifted to hospital in Montpellier but died of her burns.
Traumatised pupils at the school in Beziers were being assisted by psychologists after the incident.
The previous day, she had attended a stormy meeting with children in her class who found her teaching methods too strict, according to witnesses.
Education Minister Luc Chatel said after a visit to the hospital where she was taken that he was shocked by the "desperate act".
Local prosecutors said an initial investigation had found "no criminal act" connected with the incident.
Parents and pupils said they had had a difficult relationship with the teacher.
She had been hostile at a recent parents' evening and had not got on with several students in her maths class, they told AFP news agency.
The meeting to clear the air with some of her students on Wednesday had become rowdy, they added.
The unnamed woman went to the Jean Moulin school on Thursday morning with a jerrycan, gave a class at 09:00 (07:00 GMT) and then, when the morning break came, walked to the centre of the playground, poured petrol on herself and set herself alight.
"I saw her body on fire, walking forward with her hands on her head," said one student witness, Karim.
"Several people tried to put her out. She said 'No, leave me alone. I don't need help. God told me to do this.'"
Dolores Roques, a fellow teacher at the school, told France-Info radio: "I saw a person who was running and on fire.
"It was a human torch. I didn't believe my eyes. It seemed unreal. The students were screaming everywhere."
Teachers threw blankets over her, Karim said, before the helicopter arrived.
The school - which houses 3,000 students and 280 teachers - sent all of its pupils home after the incident, and a psychological support unit was set up to cope with the aftermath.
In a joint statement, unions representing secondary school teachers said the incident underscored the difficulties facing teachers and called for a public debate on working conditions.
Noting the "significance of the choice of the workplace to commit this desperate act", the unions called on Mr Chatel to organise public consultations on "the realities of [teachers'] work".
"We must be aware of what is being called teacher fatigue, of professional problems, of the suffering at work that, while we see it in other professions, is more and more present within the education system," the unions said.