Car driven at policwoman during tobacco raid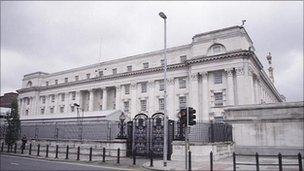 A car used in an attempted tobacco heist was driven straight at a policewoman after the raid was disrupted, a court has heard.
Belfast man George Glen Campbell, 31, faces charges of attempted murder, attempted robbery and conspiracy to rob.
The incident happened on the Cregagh Road, Belfast on 2 March.
The High Court heard that the officer had to dive out of the way of the vehicle "in order to save her life".
She sustained foot injuries in the process.
The charges relate to an alleged attempt to rob a van delivering cigarettes from a bonded warehouse to a newsagents on the Cregagh Road.
It was claimed that a co-accused may have used inside information to ensure a vulnerable driver was making the delivery.
Mr Campbell, with an address at Dunvegan Street, Belfast, is alleged to have driven three other men who tried to carry out the raid.
He was refused bail due to the risk of potential re-offending.