Austria deputy Kurzmann cleared over anti-Muslim game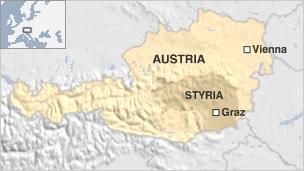 A right-wing Austrian politician has been cleared of incitement after he created an anti-Muslim computer game as part of an election campaign.
Freedom Party deputy Gerhard Kurzmann used the game in his failed bid to become governor of the south-eastern province of Styria last year.
Players of "Bye-bye, Mosque" had to shoot at Muslims and mosques as they emerged from a rural scene.
The game sparked sharp criticism from other parties and religious groups.
Judicial authorities forced the Freedom Party to take down the game and Mr Kurzmann was later charged with inciting religious hatred and defaming a religion.
But on Friday a court in Graz cleared Mr Kurzmann.
"It did not reach the threshold of incitement and I would also say this was not the intention," Judge Christoph Lichtenberg said, in remarks carried by the national APA news agency.
The prosecution said it would lodge an appeal.
The Freedom Party said the ruling showed that "the question of whether mosque-building should be banned is being discussed all over Europe and that it is a completely legitimate debate", Reuters news agency reported.
Less than 2% of Styria's population is Muslim and the province has no mosques with visible minarets, APA said.
The Freedom Party is Austria's biggest opposition party. It argues for Islamic face veils and mosques with minarets to be banned.