Kosovo Serbs defy Nato demands over blockades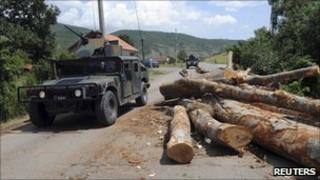 Ethnic Serbs in Kosovo have defied demands by Nato to remove roadblocks, amid tensions over control of border crossings between Serbia and Kosovo.
Nato peacekeepers had given the minority Serbs until Tuesday to remove barricades set up at two crossings.
But Nato troops sent to the area left without dismantling them in an apparent bid to give the Serbs more time.
The blockades were erected in July when the mainly ethnic Albanian government sought to seize the crossings.
Last month, after a two-week stand-off with Nato-led peacekeepers, a deal was reached to allow Nato to control the crossings.
But Tuesday's deadline passed without the roadblocks of rocks, mud and logs being dismantled.
Peacekeepers from Nato's Kosovo force, K-For, withdrew their convoy of trucks and armoured personnel carriers from one of the crossings, about 100km (60 miles) north of the capital, Pristina.
"We've been given orders to go back, as we cannot go through barricades," a Nato commander in the field told Reuters news agency.
Serb politicians said no action would be taken before their leaders debate a compromise proposal on Wednesday.
Extra troops
The initial dispute was caused by a trade ban between Serbia and Kosovo.
In July, the government in Pristina had sent security forces to the crossing points at Jarinje and Brnjak to enforce a ban on Serbian imports, to which Serbs responded by blocking roads.
The trade ban was imposed in response to Belgrade's effective bar on imports from Kosovo since its declaration of independence.
Nato deployed hundreds of extra troops to guard the border.
The Nato-brokered deal stated that K-For would patrol the disputed crossings, in return for Serbs in Kosovo dismantling the roadblocks.
Serbia has refused to recognise Kosovo's 2008 declaration of independence.
The unilateral declaration has now been recognised by more than 80 countries, despite strong opposition from Belgrade.