Swedish rally driver's son born on motorway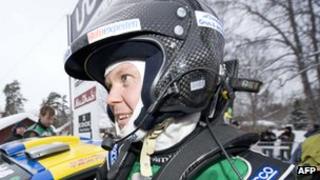 A life spent behind the wheel of a car did not help Swedish rally driver Per-Gunnar Andersson when his son decided to make his entrance into the world.
The 31-year-old was forced to pull over on the hard shoulder when he and his wife Marie-Louise realised they were not going to make it to hospital.
They called an ambulance out to the roadside, and the baby - named Alvin - was born in their BMW.
Mr Andersson joked after that his son would probably be a rally driver too.
"He seems to have it in his genes," he told the Swedish newspaper Expressen.
His wife went into labour in the early hours of Saturday morning and they got in the car to drive to the hospital.
But half an hour into the journey, they realised they were not going to get there in time, so pulled over on to the hard shoulder of the highway near Karlstad, in west Sweden, Expressen reports.
"I was pretty calm but when the baby comes out you do want a little assistance," Mr Andersson said.
Within a minute of the ambulance arriving, Alvin was born "healthy and fine".
Mr Andersson was a junior world rally champion in 2004 and 2007, and was placed seventh in the 2011 Rally of Sweden.