Papandreou and Samaras end Greek unity government talks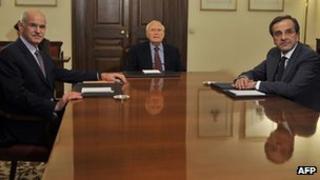 The Greek president has hosted crunch talks between the beleaguered prime minister and main opposition leader.
PM George Papandreou has been trying to build a national unity government to lead Greece through its debt crisis.
Antonis Samaras, of the New Democracy party, is refusing to negotiate unless Mr Papandreou resigns first.
The talks ended with no immediate word on the outcome. Reports say Mr Papandreou may step aside if agreement can be reached on a new leader.
There has been speculation that a new governing coalition could be led by Finance Minister Evangelos Venizelos.
News of the talks involving President Karolos Papoulias emerged after an emergency cabinet meeting led by Mr Papandreou.
Both Mr Papandreou and Mr Samaras have held separate talks with the president during the weekend.
Mr Papandreou has continued to insist that a general election should not be held for several months, while Mr Samaras has demanded snap elections.
Referendum plan
Mr Papandreou narrowly won a confidence vote on Friday night, but has been under continuing pressure to resign amid chaos over the debt crisis.
A bailout deal agreed by the European Union last month must be ratified by Greece before more funds will be released to stave off bankruptcy.
The deal gives the government 130bn euros (£111bn; $178bn) and imposes a 50% write-off on private holders of Greek debts, in return for deeply unpopular austerity measures.
But Mr Papandreou faced the wrath of fellow EU leaders when he announced that he would put the deal to the people of Greece in a referendum.
The idea was dropped days later, but not without sparking a deeper financial crisis and triggering the political crisis which led to a confidence vote on Friday night.
Mr Papandreou narrowly won the vote, but the calls for his resignation from the main opposition group did not cease and Greece faced pressure to quit the euro if it could not deliver acceptance of the EU deal in parliament.
The BBC's Mark Lowen in Athens says Mr Papandreou's time in office appears to be drawing to a close.
Reuters news agency said he had told an emergency cabinet meeting he was not interested in staying on as PM.
The country has come under huge international pressure to resolve its political crisis, in order to calm the markets.
A meeting of EU finance ministers is taking place on Monday, adding to the pressure on Greece to agree on a new government.
Although the Greek public has strongly resisted the austerity measures, a recent opinion poll in a newspaper showed 70% wanted to remain within the eurozone.
Other polls have suggested most people want a government of national unity rather than immediate elections.