Spain: Election rivals Rubalcaba and Rajoy in TV debate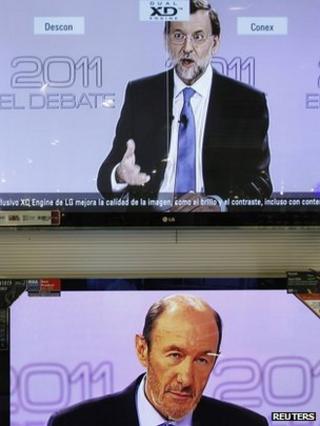 Spain's two leading contenders for prime minister in the forthcoming general elections have held their only live television debate.
High unemployment and the weak economy dominated the encounter between the governing Socialists' Alfredo Perez Rubalcaba and opponent Mariano Rajoy.
Opinion polls suggest the Socialist party (PSOE) is on course for a resounding defeat by the centre-right opposition Popular Party (PP).
Voting takes place on 20 November.
Observers believe the PSOE will be punished for governing Spain through its worst economic crisis in decades.
The unemployment rate is close to 22% - more than twice the European Union average - and there are signs that the country is heading back to recession.
'Urgent change'
Mr Rubalcaba used the debate to accuse Mr Rajoy of having secret plans for massive cuts and privatisation that he was failing to declare to the electorate.
"If you tell people the plans you have in your head, not even your own party members will vote for you," he said.
But Mariano Rajoy, 56, has made it this far with only broad ideas, and the promise of change, the BBC's Sarah Rainsford reports from Madrid.
With victory in sight, his task during the debate was to keep votes rather than try and win any more, she adds.
Mr Rajoy beat off Mr Rubalcaba's attack with statistics, pointing out repeatedly that the number of unemployed has risen to almost five million under a Socialist government.
"The key question in this election is whether we will continue with the same politics, or manage things in a different way. I believe Spain needs change - and needs it urgently," he said.
Mr Rubalcaba, 60, as interior minister under the current government, has struggled to separate himself from the policies of Prime Minister Jose Luis Rodriguez Zapatero, who is standing down after eight years in power.
Our correspondent says the TV debate has only cemented the view that the PP is on course for its biggest ever win - likely to gain an absolute majority of seats in parliament.