Italian crisis: Silvio Berlusconi vows to resign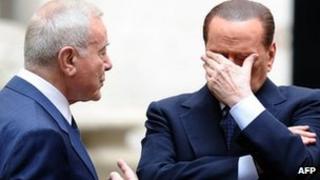 Italian Prime Minister Silvio Berlusconi has confirmed he intends to resign after key economic reforms have been approved.
His announcement follows a vote in parliament on the budget in which he appeared to lose his majority.
Both allies and opponents have been urging Mr Berlusconi to step down as Italy's debt crisis grows.
Borrowing rates have shot up in recent days, raising concerns over whether Italy can service its debts.
While Italy's deficit is relatively low, investors are concerned that the combination of Italy's low growth rate and 1.9tn euro (£1.63tn; $2.6tn) debt could make it the next country to fall in the eurozone debt crisis.
The European commissioner for economic affairs, Olli Rehn, described the country's economic and financial situation as "very worrying".
Mr Berlusconi has dominated Italian politics for the last 17 years.
He has survived more than 50 confidence votes, but has recently become mired in a series of legal and sex scandals as well as the political and economic crises.
'Appropriate consultations'
The euro rose sharply against the dollar following the news of Mr Berlusconi's decision.
Speaking on TV, the prime minister said he would have preferred to call early elections but the final decision rested with President Giorgio Napolitano.
"Once this finance law is approved, along with the amendments on everything which Europe has asked of us and which the Eurogroup has asked for, I will resign, so that the head of state can open consultations," he said.
The BBC's Alan Johnston in Rome says there has been speculation that an interim government of technocrats might be ushered in, a move that Mr Berlusconi clearly opposes.
But the question of who led the government was less important than doing "what is right for the country", Mr Berlusconi added.
Earlier, President Napolitano announced the decision in a statement.
"Once this engagement is fulfilled, the prime minister will hand in his mandate to the head of state who will proceed with appropriate consultations, paying close attention to the positions and proposals of all political forces," he said.
Mr Berlusconi had shown "his awareness of the implications of the results of today's vote" as well as "concern for the urgent need to give prompt answers to the expectations of European partners", Mr Napolitano added.
Correspondents say the budget law is expected to be passed by the end of the month.
But the opposition is looking for the measure to be approved in 10-15 days. Opposition parties will meet on Wednesday morning to discuss timings.
Mr Berlusconi won Tuesday's vote, but only because the opposition did not take part.
Only 308 MPs voted in favour, far below the 316 needed for an absolute majority.
Both coalition ally Umberto Bossi of the Northern League and opposition leader Pierluigi Bersani had called on the prime minister to step down.
Market volatility
International money markets are now forcing Italy to pay interest rates that could eventually ruin it, putting extraordinary pressure on Mr Berlusconi, our correspondent says.
Doubt about Italy's governance and its ability to repay its debts have sent the markets seesawing over the past two days.
On Tuesday, the cost of government borrowing spiked at a new record of 6.76% after the vote, around the 7% threshold at which Portugal and Ireland were forced to accept bailouts.
Correspondents say the government has been slow to implement austerity measures, and the prime minister's various scandals have been seen as an unwelcome distraction at a critical time.
Mr Berlusconi, who first took power in 1994, is Italy's longest serving post-war prime minister.
He is also thought to be worth $9bn (£5.6bn), and controls an empire spanning media, advertising, insurance, food and construction.
He has been accused of embezzlement, tax fraud and false accounting, and attempting to bribe a judge. But he has always denied wrongdoing and has never been definitively convicted.
Mr Berlusconi's political struggles have been accompanied by a string of lascivious reports in the Italian press about his private life, culminating in his trial on charges of paying for sex with an under-age prostitute.