Profile: Giorgio Napolitano, Italian president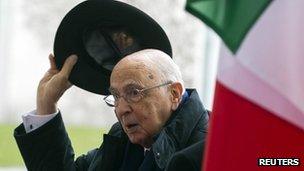 Italian President Giorgio Napolitano, re-elected on Saturday for an unprecedented second term in office, is known as a measured, mild and immaculately-mannered politician.
His discretion and diplomacy, and his preference for working behind the scenes have earned him the respect of those in Italy and beyond.
His seven-year term in office had been due to end on 15 May, but inconclusive elections in February have left Italy in political deadlock, governed by a caretaker cabinet.
After parliament had made five failed attempts to elect a new president, leaders of the main political parties appealed to the 87-year-old leader to put forward his candidacy and he agreed to seek re-election.
The leaders - both on the left and right - expressed their concern over a deepening political and economic crisis, describing the situation as "grim" and urging parliament to "show unity" in re-electing Mr Napolitano.
'Examine your consciences'
Although, the role of the president in Italy is often seen as largely ceremonial, holders of the office are listened to carefully if they intervene.
"I cannot shun my responsibility towards the nation," was Mr Napolitano's response to the cross-party plea to run for the office again.
The remarks were a turnaround for a man who for weeks had maintained he was too old to remain in office.
Two years ago - as attention began to turn to Italy as the next state potentially to be engulfed by the eurozone crisis - Mr Napolitano also spoke out.
He then urged a "collective examination of conscience" in what seemed a not-so-coded message to a political class often more concerned with its own survival than that of the country.
"There is much that has to change in the behaviour of all those involved in public and social life.
"The institutions of the European Union, and the states that belong to this union, each and every one, are paying the price of our failures, hesitations and contradictions. We should each ask ourselves how personally responsible we are," he added.
His strong sense of pride in Italy, and of the importance of principles in public life, led him to embrace the role of president, distant from the often treacherous world of Italian parliamentary politics.
But it was a sphere he knew well, being elected to the Italian parliament in 1953 at the age of 28, and remaining for 10 consecutive legislatures.
He became speaker of the lower house between 1992 and 1994, and was appointed interior minister in Romano Prodi's government between 1996 and 1998.
For five years until 2004, he was a member of the European parliament, serving as chairman of its committee on constitutional affairs.
Born in Naples, he is reported to have become involved with Italy's resistance movement during the German occupation, taking over a magazine and publishing texts by Karl Marx disguised as editorials penned by young writers.
He began his political career in Italy's now-defunct Communist party but was described as "the least communist Communist that the party has ever enlisted," according to La Stampa newspaper.
Always reform-minded, he was among the leading architects of the party's transformation into a social-democratic movement, seeking dialogue with Italian and European socialists to end his party's isolation and supporting European integration.
When he was appointed president, Richard Gardner, US ambassador to Italy between 1977 and 1981, sought to reassure the administration of George Bush that he would be an ally.
"He's a real statesman, he's fair-minded, he's a true believer in democracy, a friend of the United States and he will carry out his office with impartiality and fairness," Mr Gardner, who had held meetings with Mr Napolitano during his time in Rome, told the Associated Press.
In February this year, Pope Benedict XVI was said to have confided in Mr Napolitano a week before he announced his resignation, an example of the apparent bond the two men shared.
On the domestic front, Mr Napolitano clashed with former Prime Minister Silvio Berlusconi over the issue of the right-to-die.
In 2009, he refused to sign an emergency decree issued by Mr Berlusconi that would have overturned the judgment of several courts and forced the parents of a 32-year-old woman who had been in a coma for 17 years to continue to treat her.
But these moments of controversy have been rare, which may go some way to explain his political longevity, and his personal popularity - qualities much-needed as Italy faces the deepest of crises.
Related Internet Links
The BBC is not responsible for the content of external sites.