EU's inner 'politburo' flexes its muscles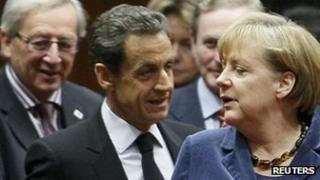 They call it the family photo and - dysfunctional or otherwise - when EU leaders gather to have their picture taken at summits, you see just how many of them there are, and why it can be so hard to take a decision.
Even when it is just the eurozone - that is still 17 countries who all want to have their say.
Little wonder that for years now France and Germany have got into the habit of hatching pre-summit meetings, to try to agree it all in advance.
But as the sovereign debt crisis has intensified, a problem has emerged. Germany is strong, France relatively weak, and often they agree about almost nothing.
So in the past few weeks a kind of politburo has emerged.
Chancellor Angela Merkel and President Nicolas Sarkozy have been joined by one other democratically elected leader - Jean-Claude Juncker, the Prime Minister of Luxembourg, who also happens to chair meetings of eurozone finance ministers.
Also at the table are five others chosen by their peers: Jose Manuel Barroso and Ollie Rehn from the European Commission; Herman Van Rompuy from the European Council; Mario Draghi, the new president of the European Central Bank; and all the way from Washington (but really from France) Christine Lagarde, the head of the IMF.
It has been christened the Frankfurt Group, after the venue of their first meeting where Mr Sarkozy and Mrs Merkel rather spoilt the moment by having a stand-up row.
But what is interesting about this inner core within the inner core is that it has begun to flex its muscles. Leadership - that is what we have all been crying out for, isn't it?
It has been pressure from members of the Frankfurt Group which has helped unseat recalcitrant prime ministers in Italy and Greece. That may raise questions about democratic legitimacy, but these are extraordinary times.
And when the Greeks raised the prospect of a referendum on their huge financial bailout, they crossed a psychological divide.
For the first time senior EU leaders talked in public about the prospect of a country leaving the eurozone if it was not prepared to live up to its commitments. The referendum idea was quickly shelved, and so too was the prime minister.
So is the Frankfurt Group the new centre of power in Europe? Not necessarily - not least because there are still many issues on which its members simply do not agree.
President Sarkozy, for example, spoke this week of a much more clearly defined two-speed Europe, with federalism and total integration at its heart.
But Mr Barroso, president of the European Commission, was quick to reply. A split union, he said, will not work. Neither a union with an integrated core but a disengaged periphery; nor a union dominated by an unhealthy balance of power.
What is clear is that a very different European Union will emerge from the sovereign debt crisis.
And the challenge of how to survive is concentrating the minds of the eurozone's most influential leaders. Because it is not just about saving others - it is also about saving themselves.
German Chancellor Mrs Merkel said on Thursday that her only goal was to stabilise the eurozone in its current form. But to do that will cost vast amounts of money, and - in one way or another - most of it will have to come from Germany itself.
That is the real choice Mrs Merkel has to make.