German parliament 'given Irish budget plan'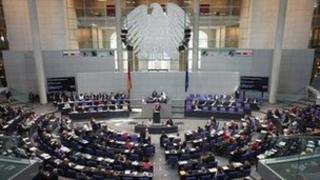 Newspapers in the Irish Republic have reported that the government has complained to the European Commission over the leaking of budget details.
The Irish Times said that a document, which included proposals to increase VAT to 23%, was seen in a finance committee of the German parliament.
The newspaper said the document also contained austerity measures to save 3.8bn euros in 2012 and 3.5bn in 2013.
The Irish PM said he had "no idea" how the paper ended up in Germany.
Enda Kenny said his cabinet had made no decision on the final make-up of the December 6 budget.
The Irish Times said that the documents included two letters of intent from Irish finance minister Michael Noonan and a memorandum entitled "confidential draft".
It also reported that the German finance ministry had confirmed that it had forwarded documents to the committee given to it by the so-called troika, the European Central Bank, the European Union and the International Monetary Fund, which has funded Ireland's bail-out.