French president's widow Danielle Mitterrand dead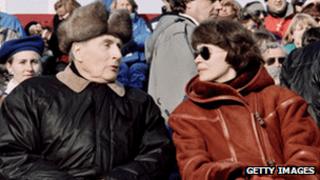 Danielle Mitterrand, the widow of former French President Francois Mitterrand, has died at the age of 87.
Mrs Mitterrand had been admitted to Georges-Pompidou hospital in Paris after suffering from respiratory problems on Friday.
She was put in an artificial coma on Sunday and died in the early hours of Tuesday morning.
Francois Mitterrand led the Socialist party and served two terms as president of France, from 1981 to 1995.
A member of the French Resistance and a humanitarian campaigner, Danielle Mitterrand was often an outspoken first lady.
Resistance nurse
A friend of Cuban leader Fidel Castro, she also campaigned on behalf of the Kurds and Tibetans. She embraced numerous causes, including an equitable share-out of water resources.
Born Danielle Gouze in the eastern town of Verdun, she joined the Resistance as a nurse aged only 17, when German troops occupied most of France in 1940.
On 27 October, 1944, she married Francois Mitterrand, a fellow Resistance member, whom she met when he was on the run from the Gestapo.
The couple had three sons Gilbert, Jean-Christophe and Pascal. Pascal died very young.
'Icon'
After President Mitterrand's election in 1981, she devoted herself to human rights work.
Francois Mitterrand died of cancer in 1996, but his widow continued her work.
The organisation she founded in 1986, France Libertes, celebrated its 25th anniversary in October this year.
President Nicolas Sarkozy said "she never abandoned her values and pursued to the end of her might the battles she considered fair".
Jack Lang, a minister in Francois Mitterrand's government in the 1980s, described her as "a friend, a militant, a conscience, an icon".
Danielle Mitterrand's nephew, Frederic - the current culture minister - said she had contributed enormously towards "humanising the very idea of the presidency, while maintaining her freedom of thought and speech".