Taoiseach cites 'grievous drop' in RTE standards over Fr Reynolds libel case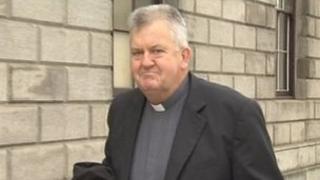 The Irish prime minister has called for a "high standard of journalism" to be restored at RTE, after its flagship current affairs programme made false allegations against a priest.
A Prime Time Investigates documentary wrongly accused Fr Kevin Reynolds of fathering a child with a minor.
Taoiseach Enda Kenny said the libel case showed a "grievous" drop in standards at the broadcaster.
An independent inquiry has been launched.
The Broadcasting Authority of Ireland (BAI) will investigate the circumstances which led to the broadcasting of 'Mission to Prey' last May.
It will report back in two months' time.
Restore standards
Its director general said the libelling of Fr Reynolds was "one of the gravest mistakes" RTE had ever made.
Asked if anyone would resign, Noel Curran said recommendations would be brought forward to the next RTE board meeting due in December. He said nothing was ruled out.
The documentary accused Fr Reynolds of fathering a child with a minor in Kenya. It later emerged the allegation was untrue and RTE paid a substantial settlement to the cleric.
Mr Kenny said he agreed with Mr Curran that ''clearly there is a need to see that the very high standard which normally pertains be restored'' at the broadcaster.
The Republic's Minister for Communications Pat Rabbitte has asked the BAI's compliance committee to examine if RTE "met its statutory responsibilities around objectivity, impartiality and fairness".
It is the first time the station has been investigated by the BAI.
Fr Sean McDonagh, a member of the Association of Catholic Priests, said the credibility of RTE was on the line and called for a full judicial review.
"We are happy with the investigation, but we wonder how much teeth it will have," he added.
RTE said the next series of Prime Time investigates has been suspended "until all sources used have been examined".