Turkey PM Erdogan apologises for 1930s Kurdish killings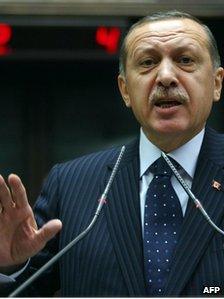 The Turkish prime minister, Recep Tayyip Erdogan, has apologised for the killing of more than 13,000 Kurds by the Turkish military in the late 1930s.
He is the first Turkish leader to make the apology.
The killings occurred when the army crushed a Kurdish rebellion in Dersim, using aerial bombings and poison gas.
The apology comes at a time of tension between Turkey and its minority Kurdish population.
Mr Erdogan made the unexpected apology during a meeting of party officials in the Turkish capital Ankara.
"If there is need for an apology on behalf of the state, if there is such a practice in the books, I would apologise and I am apologising," Mr Erdogan said in remarks which were televised.
The BBC's Jonathan Head in Istanbul says there are many dark chapters in Turkey's history, which have remained closed to its citizens, but now the prime minister has opened one of them, by offering the apology on behalf of the Turkish state.
The killings took place between 1936 and 1939 when the Kurdish population of the south-eastern region of Dersim - now known as Tunceli - resisted the efforts of the newly formed Turkish republic to exert its authority there.
Our correspondent says the incident laid some of the foundations for today's Kurdish insurgency against the state.
It is a sensitive issue for Turkish nationalists, because modern Turkey's revered founding father, Kemal Ataturk, was president at the time, and his own adopted daughter, Turkey's first female pilot, took part in the bombing.
However, our correspondent says Mr Erdogan's apology is viewed with suspicion by some Kurds, who see it as an opportunistic move against the main opposition party, the secular CHP.
The CHP was in office at the time of the Dersim operation, and has been shaken this month by an internal debate sparked by one of its own deputies, who is from the area and called on the party to acknowledge its responsibility for the killings.
Mr Erdogan's apology appeared to be part of a war of words with the leader of the CHP, Kemal Kilicdaroglu, whose family has strong links with Tunceli.
"Dersim is the most tragic event in our recent history. It is a disaster that should now be questioned with courage. The party that should confront this incident is not the ruling Justice and Development Party (AK Party). It is the CHP, which is behind this bloody disaster, who should face up to this incident," Mr Erdogan said.
Mr Erdogan's government has made some attempt to win over Turkey's large Kurdish minority, which lives mainly in the south-east of Turkey, by improving their legal and cultural rights.
But he has also taken a tough stance towards the Kurdish insurgency and its supporters, with hundreds of Kurdish activists arrested in recent months.