South Ossetia unrest after election result is annulled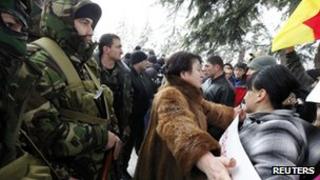 Police have fired warning shots during a protest at the annulment of Sunday's presidential election in the Georgian breakaway territory of South Ossetia.
Preliminary results gave Alla Dzhioyeva an unexpected win over Anatoly Bibilov, Russia's favoured candidate.
But Mr Bibilov accused the opposition leader of fraud and the result was declared invalid.
Ms Dzhioyeva, an anti-corruption campaigner, has rejected the annulment and declared herself president.
Appeal for support
Her first decision, according to Russian media, was to create a state council, explaining that it would function until "legitimate authorities" had been formed.
Around 1,000 of her supporters marched to the main square in the South Ossetian capital, Tskhinvali, calling for her to be recognised as leader and appealing for support from Moscow.
Both presidential candidates are seen as pro-Russian.
Soldiers guarding the government building fired into the air and no-one was reported hurt.
Russia's foreign ministry issued a statement calling for stability to be preserved and security services said they would not halt protests if they were peaceful.
According to initial results, Alla Dzhioyeva won 57% of Sunday's vote, with Mr Bibilov, publicly endorsed by Moscow, trailing on 40%.
The result was declared invalid and Ms Dzhioyeva was barred from taking part in a new election planned for March. She denies allegations of intimidating and bribing voters.
Russia and Georgia went to war over South Ossetia in 2008. Since then, thousands of Russian troops have been posted there and Moscow has given hundreds of millions of dollars in aid.
Although Russia has recognised South Ossetia's independence, only a handful of other states have followed suit.