EU to slap new sanctions on Iran's officials and firms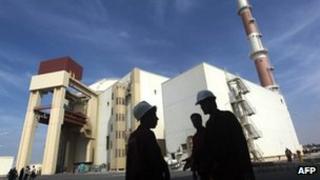 The European Union has agreed to impose fresh sanctions on 180 Iranian officials and firms over Tehran's controversial nuclear programme.
Ministers meeting in Brussels also agreed to work on other measures that could target Iran's energy sector.
The sanctions follow a UN report linking Iran to the development of a nuclear weapon. Iran denies the claims.
The EU measures also come two days after hundreds of Iranian protesters stormed the UK embassy in Tehran.
Britain announced on Wednesday it was expelling all Iranian diplomats from London, after pulling its own out of Tehran.
A spokesman for EU foreign policy chief Catherine Ashton told the BBC that the new sanctions would target 39 people and 141 companies and would include the freezing of assets and travel bans.
EU ministers said in a statement: "The council agreed to broaden existing sanctions by examining, in close co-ordination with international partners, additional measures including measures aimed at severely affecting the Iranian financial system, in the transport sector, in the energy sector."
Correspondents say foreign ministers failed to agree on an oil embargo against Iran because some EU countries are dependent on Iranian oil.
Ministers said a decision on future measures would be taken no later than January.
Officials say the latest sanctions are not linked to the storming of the British Embassy in Tehran on Tuesday.
However, ministers denounced the attack and said the EU would take "appropriate measures in response".
The statement did not specify what those would be.
Ahead of the Brussels talks, UK Foreign Secretary William Hague said he wanted "an intensification of the economic pressure", particularly the isolation of Iran's financial sector.
'Nuclear device'
Last week the US, Canada and the UK announced new sanctions against Iran in the wake of the report from the UN nuclear watchdog, the International Atomic Energy Agency (IAEA), that said Iran had carried out tests related to "development of a nuclear device".
Tehran insists that its nuclear programme is solely for peaceful purposes.
The 27-member EU has already frozen the assets of hundreds of Iranian companies and has adopted measures to prevent new investment and technological assistance to Iran's gas producing and refining industry.
The EU is yet to release details about the 180 officials and entities targeted by the sanctions.
Despite the IAEA report, Iran was not referred to the UN Security Council because Russia and China were opposed to the move.
Iran expressed regret for the attack on the UK embassy - and another UK diplomatic compound in Tehran - and said a number of protesters had been arrested.
However, the semi-official Fars news agency said on Thursday that police had freed 11 people held over the attacks. There was no explanation for their release.