Transparency International cuts ties with Fifa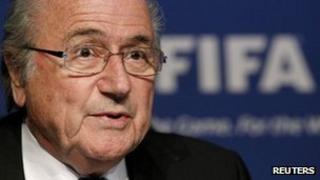 A corruption watchdog that was advising Fifa after a series of bribery and corruption scandals, has cut its ties with world football's governing body.
An official with Transparency International (TI) said two of its key recommendations had been ignored.
TI said Fifa paying an expert to oversee major reforms to how it is run would jeopardise his independence.
The expert, Mark Pieth, said he would not re-examine old scandals, another recommendation of TI.
The move is being viewed by many as a blow to the credibility of Fifa's reform process, which has been led by its President Sepp Blatter, says BBC sports news correspondent Alex Capstick.
Fifa has declined to comment on TI's move.
'Not independent'
Sylvia Schenk, TI's sports adviser, said Mr Pieth could not remain independent of Fifa if he was being paid by the organisation.
"We believe that someone paid by Fifa cannot be a member of the independent commission [overseeing reforms]," Ms Schenk told the Press Association Sport news agency.
"He has a contract with Fifa so he is not independent in that sense."
Mr Pieth said it was common for firms to pay outside advisers to evaluate their business practices.
"We can't start asking audit firms to do their job for free just to make sure they are independent," he told the Bloomberg news website.
TI had been invited by Fifa to sit on an outside panel headed by Mr Pieth to advise on reforms.
Fifa has been embroiled in scandals that have seen four members of Mr Blatter's ruling executive committee banned or resign over allegations of bribery.
TI's involvement was seen as a key element in Mr Blatter's strategy to clean up Fifa, says our correspondent.