Belgium's new government: Your reaction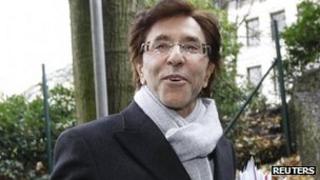 Belgium has sworn in a new government, ending a record-breaking 541 days of political deadlock.
The government will now be headed by French-speaking Socialist Elio Di Rupo.
The country has been run by an interim administration after the last government split, unable to resolve a dispute about linguistics.
BBC News website readers in Belgium have been emailing their thoughts about the new appointment and whether the linguistic debate will continue.
Staphanie, Brussels
The problems Belgium has been facing will not resolve themselves because Mr Di Rupo managed to settle a government.
I do think Mr Di Rupo is capable of significant changes and I do believe he is able to change Belgium in a good way.
He has a good reputation, even in the North of the country, but I do not think the new government will last for long.
What Belgium is experiencing now is not the accomplishment of two years of negotiations, it's just the return of the calm before the storm.
Also, people tend to forget about the third community in Belgium. Do people know Belgium has three national languages?
French speaking Walloons and Dutch speaking Flemish will not stop fighting for their rights, the language barrier is an underestimated issue.
Maryvonne Remacle, Esneux
It's very hard for foreigners to understand how difficult it is to form a government.
Five hundred and forty days with a caretaker government - not many countries would have resisted such an ordeal without a revolution.
A long, long time ago, Julius Caesar said "Of all these, the Belgae are the bravest."
Today I couldn't help shedding a few tears when I saw our new socialist Prime Minister Elio di Rupo being sworn in by the King even though I am not a socialist myself.
Perhaps he and his ministers will give Belgium a new chance of remaining united... at least for a while!
Pieter-Jan, Antwerp
Finally we have a government, but I don't know if Elio Di Rupo is the right man in the right place.
In Spain and Greece they sent a socialist government back home, but in times of cost cutting Belgium takes a socialist prime minister.
At least I hope Belgium will now get two and half years of stability, but I'm afraid that in 2014 when we are set to have new elections, there will be another long round of negotiations.
Ruben, Brussels
This government's mission is as good as impossible.
They have no more than one and a half years to work out a very ambitious government agreement of institutional, socio-economic and fiscal reforms.
The next elections are in 2014, which means campaigning will start at the beginning of that political year, and local elections are next year.
A bumpy ride ahead, but let's hope for the best, otherwise the end of this country is waiting at the other side.
Jan, Kortrijk
This new cabinet proves that "compromise" is not a dirty word.
It also shows that politics and politicians - no matter how crazy they can sometimes drive people - can still do what they are designed for, and that is to make sure that the interests of all people are taken into account, and not just one specific group, lobby or community.
I'm a dutch-speaking Belgian living in Flanders and I would like to wish Mr Di Rupo all the best!
Dirk, Gelinden
The way the government is formed now does not agree with the people's needs.
One of the things that bothers Flemish people the most is the fact that our new prime minister does not even speak Flemish.
The biggest political party in Belgium the New Flemish Alliance (NVA) is now placed in opposition, which in fact maybe a good thing.
We hope that our fears will not come true. Only time will tell.
Philippe, Ostend
This government was formed under pressure from outside Belgium and unfortunately has resulted in a hodgepodge coalition, a coalition which is just willing enough to address some of the economic and institutional problems Belgium faces but without going the whole hog.
I don't expect this government to last long. Its economic budget is based on out of date figures and extra taxes are in the works to stave off a bloated state deficit.
A deficit which is not being helped by the government itself, as internal cutbacks in the administration have not been prioritised, instead they are still wrangling about the finer points of the social and demographic problems Belgium will face in the future.