Rhino horn thieves use stun gas in Paris museum raid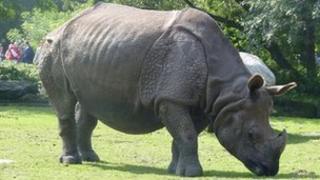 Thieves have stolen a rhinoceros horn in a raid on a museum in the central Marais district of Paris.
Two people entered the Museum of Hunting and Nature on Tuesday lunchtime and used a "paralysing" gas against museum guards, local media reports say.
The guards were treated in hospital after the attack.
There have been several recent thefts of rhino horns from museums in Europe. They are much sought after in parts of Asia for use in traditional medicine.
This year there have been three such other thefts from museums in France alone, the AFP news agency reports.
Earlier this year the EU's police agency Europol said it had uncovered an Irish organised crime group running an illegal trade in rhino horns.
The group used "intimidation and violence" and targeted sites including zoos and museums to source rhino horns, Europol said.
There is no indication as yet as to who may be responsible for this latest theft.
Rhinos are also facing increasing danger in the wild. The wildlife charity WWF said last month that rhino poaching had reached record levels in South Africa.