Vatican embassy closure criticised by bishops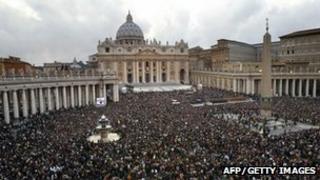 Ireland's Catholic Bishops have expressed "regret" over the decision by the Irish government to close the country's embassy to the Vatican.
The winter general meeting of Irish Bishops ended on Tuesday in Maynooth.
In November, Foreign Affairs Minister Eamon Gilmore announced the closure of Ireland's embassy to the Holy See as part of cost-cutting measures.
He said the closure of it and embassies in Iran and East Timor would save about 1.25m euros (£1.1m; $1.7m) a year.
In a statement issued after the winter conference the clerics said a "state's foreign policy should include respect for the spiritual values of its citizens and religion ought not to be relegated to the purely private sphere".
Ireland - like many other nations - has maintained two diplomatic posts in Rome: one for the Holy See, the other for Italy.
Predominantly Catholic Ireland has traditionally had close relations with the Vatican, where the embassy was opened in 1929.
Earlier this week, a fifth austerity budget since 2009 was unveiled in Dublin. Those measures were also criticised at the conference.
Bishop Christopher Jones, chair of the Bishops' Council for Marriage and the Family said the "government can make choices and has a responsibility to adequately assess the impact of any proposed policy measures on the lives of the vulnerable."