Mass protests in Russia put Putin under pressure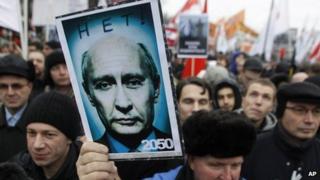 Could Vladimir Putin lose next year's presidential election? The very question shows just how much Russia has changed in such a short space of time.
Less than three months ago, Mr Putin looked in total control.
On 24 September, when the Russian prime minister announced his intention to run again for president, few Russians doubted he would win.
The Kremlin's system of "managed democracy" had pushed opponents to the fringes of Russian politics; TV coverage of Putin was all positive; December's Duma elections were going to be little more than a distraction on the way to Mr Putin returning triumphantly to the Kremlin, possibly for the next 12 years.
Suddenly, Vladimir Putin is looking weaker than at any time in his political career.
Even before the parliamentary elections, there were signs his popularity was fading. Last month when Mr Putin put in an appearance at a martial arts fight he was booed by the crowd. His aides dismissed the incident, denying that the catcalls had been directed at their boss.
But they cannot deny that Vladimir Putin has had an awful week.
First, his party United Russia barely scraped a majority in the parliamentary elections, despite widespread reports of vote-rigging in its favour. The election was criticised by Russian and international observers for being neither free nor fair. The US Secretary of State Hillary Clinton described it as "flawed".
Then came the street protests.
Last Monday, thousands of Muscovites demanded the election results be annulled and a new election held. There were cries of "Putin Resign!"
This weekend, tens of thousands of protesters in the centre of Moscow voiced the same demands. It was the biggest anti-government rally in Moscow since the fall of communism. And there were smaller protests in dozens of other cities across the country.
Biggest challenge
Having ignored the initial unrest, state-controlled TV channels took a dose of glasnost and covered Saturday's protests. In doing so, the authorities sent an astonishing message to millions of Russian TV viewers: that an election, organised by the people in power, was viewed by many Russians as fraudulent.
And yet Vladimir Putin still looks set to win the presidential election in March.
Right now there is no obvious alternative. The political system he has constructed has prevented any serious rival from appearing.
Those politicians who intend to run against him in 2012 have challenged before and lost, like the communist leader Gennady Zyuganov, the liberal Grigory Yavlinsky, and social democrat Sergei Mironov.
One man who could be a thorn in Mr Putin's side is the charismatic anti-corruption blogger Alexei Navalny.
He was jailed for 15 days after last Monday's protest. If he were to run against Putin, he could score well. But Navalny is a controversial figure, and may struggle to unite the opposition.
Vladimir Putin's biggest challenge now will be to make sure he wins in the first round of voting, and to ensure that any victory is viewed as legitimate.
With the parliamentary elections mired in allegations of electoral fraud, the danger is that the presidential poll, too, will be dismissed as unfair and dishonest. And victory in that election devalued.
So what will he do now?
The Kremlin may try to play for time, to try to calm the situation down.
President Medvedev has already called for an investigation into electoral fraud. He gave few details, though, about what kind of an investigation it would be and who will carry it out. It is unlikely to stop the protests.
Mr Putin may be hoping that differences within the opposition will work in his favour; that communists, anarchists, nationalists and liberals will start squabbling amongst themselves and harm their cause.
He is also likely to distance himself from United Russia, the party he created but which is now widely seen as "spoilt goods". (United Russia's opponents refer to it as "the party of villains and thieves")
He may ratchet up the anti-western rhetoric, accusing the West of fanning the flames of revolution in Russia, trying to play to Russians' sense of patriotism.
The Kremlin will also rally its supporters and bring them onto the streets (although last week's pro-Putin rallies in Moscow came across as unspontaneous, unconvincing and highly stage-managed).
Last night, Russian State TV painted Mr Putin as the man who had brought stability to Russia after the chaotic 1990s.
The weekly news review show described elections in the Yeltsin era as even less free and fair than today.
And there were warnings from Egypt, where the "Arab Spring" had brought "Islamists" to power. The official message is clear: Putin equals stability.
If the street protests in Russia continue, that is a message which may get increasingly hard to sell.