Bullets sent to Italy's justice minister and Rome mayor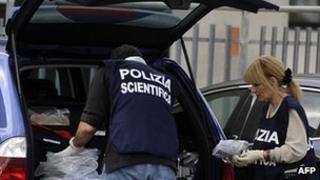 Letters containing bullets and a threatening message have been sent to the Italian justice minister and Rome's mayor, officials say.
The two letters - in almost identical envelopes - were intercepted at a mail sorting office by police anti-sabotage specialists, Reuters news agency says.
Last week a letter bomb blew up in the hands of a tax official, and another was sent to the head of Deutsche Bank.
An Italian anarchist group claimed responsibility for those two attacks.
The Informal Anarchist Federation (FAI) warned in a note of "three explosions against banks, bankers, ticks and bloodsuckers".
'Operational bomb'
Rome's Mayor Gianni Alemanno said an envelope, addressed to his secretary and containing two bullets, was intercepted.
He said a similar package was addressed to Justice Minister Paola Severina.
Italian authorities have increased their monitoring efforts following last week's letter bombs.
On Wednesday, an "operational letter bomb" addressed to Deutsche Bank Chief Executive Josef Ackermann was sent to its Frankfurt headquarters.
It was defused by police who were called after staff at the bank intercepted the letter and x-rayed it.
Then on Friday, a letter bomb blew up in the hands of Marco Cuccagna, the director of Italy's tax collection agency Equitalia.
Mr Cuccagna lost part of a finger, but doctors managed to save his sight after injuries to both eyes.
The attack was condemned by Prime Minister Mario Monti.
The FAI has previously attacked European institutions mainly in Italy, and also tried to attack the European Central Bank in 2003, police said.