Florence mourns Italy killing of two Senegalese traders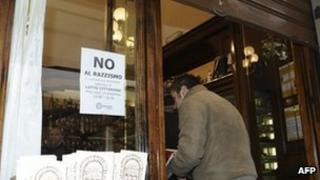 The Italian city of Florence is in mourning, a day after a gunman killed two Senegalese street vendors and injured another three.
Flags are being flown at half-mast and shops were asked to stop trading for 10 minutes at 12:00 local (11:00 GMT).
Gunman Gianluca Casseri, 50, has been linked to a far-right group, which has disassociated itself from the killings.
Casseri later turned the gun on himself and was found dead in an underground car park, police said.
Italy's President Giorgio Napolitano denounced "this blind explosion of hatred" and called on Italian authorities and society to "nip in the bud every form of intolerance and reaffirm the tradition of openness and solidarity in our country".
Florence Mayor Matteo Renzi said the shooting spree had shocked the city to its core.
"These are the actions of a lone killer - a lucid, mad and racist killer," Mr Renzi said.
The Senegalese government expressed indignation over the "odious murders", saying it would do everything to shed light on what happened, the AFP news agency reports.
The killings are especially shocking as Florence is considered one of Italy's calmer and more tolerant cities and thrives on welcoming visitors from around the world, reports the BBC's Alan Johnston.
Many shops across the city on Wednesday are displaying signs "No to racism".
Bunches of flowers were left at the spot where the men had been shot, Italy's Ansa news agency reports. One placard left at the scene expressed "solidarity" with the street traders.
Italy's lower house of parliament observed a minute's silence during its morning session as a mark of respect.
'Very scared'
Witnesses say that on Tuesday Casseri calmly got out of a car in Dalmazia Square and opened fire, killing the two Senegalese in the market, and injuring a third.
"I heard what I thought were fireworks but when I turned around I saw three men bleeding on the floor," a market trader who saw the attack told La Repubblica.
As shoppers and traders fled in panic, some people tried to pursue Casseri, but he escaped in his car.
Later he began firing at other Senegalese traders at a market in a second square near the city's cathedral, injuring two more people.
Dozens of Africans living in Florence - many of whom make a living selling souvenirs and other items to tourists - marched through the city centre after the attack in protest at the killings, knocking over mopeds, bins and street signs.
Senegalese Senator Mass Thiam, who represents the Senegalese community living abroad, and is based in Italy himself, told the BBC: "This has come as a surprise for myself and all Senegalese, given the good relations we have always enjoyed with the local community in Florence."
Omar Ndiaye, a Senegalese worker in Florence, told the BBC many Africans in the city were "very scared".
"Senegalese traders are often the victims of racial abuse," he said.
"On the streets people will call them names, accuse them of 'stealing' the jobs of Italians and will tell them to go home."
Casseri is being described by officials as a solitary figure who lived alone in the hills of Tuscany, although one report says he moved into Florence recently, our correspondent says.
Casseri was a published author of science-fiction novels, and had a passion for fantasy comics and horror films. He has been associated with the far-right association Casa Pound.
The group confirmed Casseri was a sympathiser but sought to distance itself from his actions saying it did not support any type of violence.
Fabio Barsanti, a regional co-ordinator for the group, described Casseri as "living in his own world" but "not crazy".