Six women killed in France care home fire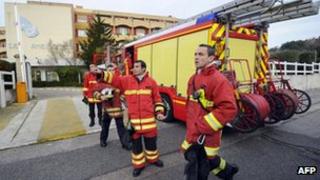 A fire at a retirement home in the French city of Marseille has left six women dead and 13 other people injured.
The fire was started accidentally by a man, 75, who had tried to open a packet of sweets with a cigarette lighter in his third-floor room, officials say.
The flames spread quickly and the six victims, although not close to his room, were unable to move.
All suffered from smoke inhalation, according to deputy mayor Caroline Pozmentier.
The six women who died were thought to be in their 80s and 90s.
Three of the injured - aged 77, 85 and 91 - are described as being in a serious condition.
The local prosecutor told reporters that the man in whose room the fire broke out was being interviewed insofar as his health allowed, because he was not considered to be in complete control of his mental faculties.
The privately-run home, The Anemones, had been staffed by four people overnight, French media report.
The most recent security inspection, in January, was not believed to have found anything untoward, the prosecutor said, although an investigation was taking place.