Euro crisis: Why Greece is the sick man of Europe
By Anthee Carassava
BBC News, Greece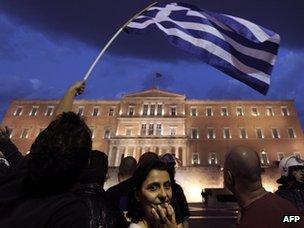 Marina Derdevian was never well off but her fortunes and health have declined as Greece's economic woes have worsened.
For decades, she managed to eke out a living, grinding coffee beans and selling sticky, syrupy confectionary on the sun-kissed island of Samos until everything changed in 2009.
Local banks foreclosed her business because of unpaid loans.
Her life savings - 30,000 euros ($39,000; £25,000) - went to lawyers. Her debts deepened. And the stress triggered a stroke, leaving her hemiplegic, and in a wheelchair for life.
A year later, the shopkeeper was diagnosed with ovarian cancer, and now state doctors have halted her cancer treatment because of unpaid social security and medical contributions.
They also shut the door on her stroke rehabilitation therapy and refused to refill her prescriptions.
Eventually, social services stepped in. But, rather than accommodate Marina Derdevian's desire to stay home in Samos, they packed her a bag, shipped her to Athens and put her in a retirement home for Greece's dwindling Armenian community.
"I never imagined ending up like this," she whispers.
"But do I deserve to die? Do I deserve to go because my country is in [financial] ruins and the national healthcare system has failed to serve people like me?"
Understaffed and under-supplied
These are questions that Europeans are no longer used to hearing about - but in Greece the financial crisis has put the right to state health protection in peril.
Brutal budget cuts have slashed hospital budgets by up to 40%, spraining an already understaffed, under-supplied and, in places, corrupt health system.
More importantly, growing economic inequality has more and more low-income and middle class people losing state health care access.
"If a country's financial fortunes are looking well, then health is a top priority," says Nikitas Kanakis, a paediatrician and director of Medecins du Monde in Greece.
"But when you're squeezed for survival, you're bound to pass up on going to the doctor to check on a suspicious mole or cough.
"You may even forgo chemotherapy because you simply can't afford to pay the 2,000-euro price tag on the medicine."
That percentage, experts say, has now, more than doubled.
Officials in Athens have criticised the Lancet report, billing its findings "premature". No state doctor, they insist, has been ordered to turn down jobless patients.
"Whether doctors expect a little something on the side or a fat envelope with cash to get treated - that is something we are cracking down on," said health ministry official Efthimios Kardaras.
Just over a decade ago, the World Health Organization ranked the Greek healthcare system as the 14th best in overall assessment and 11th - higher than Germany and the UK - in quality service.
But since then, attempts to provide Greek citizens with universal health access has met fierce resistance from interest groups, mainly private doctors and clinics.
The result: a decrepit, underfunded system operating, today, with under 9.6% of Greece's gross domestic product and the largest fleet of doctors per patient, according to the Organization of Economic Cooperation and Development.
"The system is far from perfect and there is a lot of work to be done to effectively restructure it," says Mr Kardaras.
Among the measures are government decrees for state insurance funds to keep covering health costs for Greece's growing number of unemployed for between one and two years after the registered job loss.
"The problem," he says, "is a psychological one. Greeks are a very proud lot, and many of them have failed to apply for unemployment benefits, including health care coverage, either because of that sensitivity or mere lack of knowledge."
As state health facilities continue to close and waiting times at remaining state hospitals increase, more and more destitute Greeks - like Marina Derdevian - are turning to street clinics which, until recently, served only immigrants.
"This is my last hope," she said as her Armenian-born husband, Saffi, took her into the Greek chapter of Medecins du Monde, earlier this week, to get refills of free pharmaceuticals, including cancer-busting drugs.
Since the onset of the crisis, the number of Greeks aided by such clinics has quadrupled in Athens. On the crumbling peripheries of the capital, Greek outpatients outnumber those of immigrants by a rate of nearly eight to one, Medecins du Monde officials say.
"It's just a matter of time before stewing symptoms Greece's decaying society explode - if they haven't already," Nikitas Kanakis says.
She says the government's focus on the economics of the crisis mean that it is turning a blind eye to the country's deteriorating health
Tuberculosis, malaria and hepatitis - all contagious diseases cleared from the make-up of Greece's developed society - are making strong comebacks. Most worryingly, HIV infections are soaring with experts anticipating a 52% rise for this year alone.
Most of the increases have so far been attributed to intravenous drug users. By some accounts, the Lancet reported, users "deliberately self-infect" to gain access to benefits of 700 euros a month and faster admission onto drug substitute programmes.
Other HIV carriers have been infected because of unsafe sexual practices.
"It's crazy what's happening out there on the streets," says Elizabeth Kanellopoulou, president of the union of Greek prostitutes. "Prices have dropped, more boys and girls have taken to the trade, the type of customers have changed and the conditions of employment have all drastically altered.
"What was a must until recently - the use of a condom - is now almost nowhere."
Blocked from global markets and reliant for over a year on international loans, Greece has been struggling to meet budget and fiscal reform targets to secure even more rescue funds - about 130bn euros - to avert bankruptcy.
Whether it succeeds while the health of its people deteriorates remains to be seen.
"No one really knows what the long-term health implications will be," says Mr Kanakis. "What's certain, though, is that more 20% of society will be pushed into conditions of poverty in the coming years, and traits and trends we thought were be short-lived are now looking enduring."
Related Internet Links
The BBC is not responsible for the content of external sites.