Romania's 'Nokia City' hopes dashed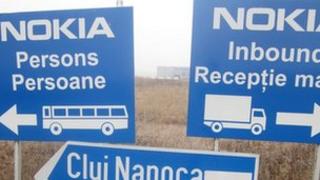 The big new Nokia assembly plant at Jucu, 21km (13 miles) from the centre of Cluj, stands alone on the edge of a vast expanse of weeds and thistles.
The hope, only three years ago at the official opening, was that the 2,300 jobs created here would soon be added to by a host of other, auxiliary industries.
The Romanian state contributed some 37m euros (£31m; $48m) to the infrastructure surrounding the site - the land where the factory stands, and the roads connecting it to the motorway system and the airport.
Nokia invested 60m euros of its own.
Cluj already has four industrial parks - this was supposed to be the fifth, creating 18,000 jobs. The media dubbed it "Nokia City".
'Scorched earth' policy
At the end of September the balloon burst.
As part of global cutbacks and restructuring by the Finnish mobile phone maker, the factory was axed and production will now go to China.
When Nokia closed their plant in Bochum, Germany, to move to Cluj three years ago, the then-German Finance Minister Peer Steinbruck accused Nokia of pursuing a "scorched earth" policy.
Valentin Ilcas, the leader of the Alfa Cartel, the trade union which represents most Nokia workers at Jucu, is much more cautious.
"Those made redundant will officially remain Nokia employees till the end of March 2012," he says, emphasizing that they are still receiving their salaries, though their jobs ceased to exist at the end of November.
"Several programmes to retrain them are being drawn up. We know Nokia are in talks with a potential buyer for the site.
"All we can hope for is that those talks succeed, and that a new owner can be found to create new jobs."
In a statement in September, Nokia offered a "comprehensive support programme" to help employees and local communities "through this difficult change".
Fears downplayed
In Cluj itself, there is still an air of disbelief about the sudden departure of Nokia.
Only four years ago, Cluj was a booming city, spreading out in all directions from its medieval centre - past ugly, communist-era suburbs and into greenfield sites all around.
New shopping malls and gleaming car showrooms appeared on the gentle Transylvanian hills. Unemployment was close to zero.
Arpad Paszkany is a local entrepreneur who has helped bring foreign investment to the city. He is also the owner of CFR - Cluj's championship-winning football club.
He downplays Nokia's disappearance.
"Just in this building 1,800 employees work. Their monthly salary is 15 times more than Nokia paid their 2,300 employees. This is just one building in this city. If you make a comparison, I don't think the departure of Nokia represents a disaster for Cluj."
City councillor Istvan Vakar says that may be true for the business and student elite, but argues that the Nokia pullout will harm a wide range of local people.
"Two thousand people are left without work, so the number actually affected is probably triple that.
"Most of the workers came from relatively poor villages outside the city, not Cluj itself. In some families, both parents worked there. The arrival of Nokia was like a cylinder of oxygen. It will be hard to replace," Mr Vakar adds.
He stresses that the company management is co-operating closely with the authorities to find a solution.
Santa's empty sleigh
In Bucharest, sources suggest that money for retraining could come from the Globalisation Adjustment Fund of the European Union.
With such hopes in the air, former Nokia employees are reluctant to speak to the media. Some refuse, others agree, then disappear suddenly on urgent business.
In the historic centre of the city, a skating rink has been set up next to the 14th Century St Michael's Church.
The first snowflakes of winter fall on a larger-than-life model of Father Christmas, pulled by a rather small reindeer. His sleigh is empty.
Nokia arrived in Cluj on the peak of a wave, just a few months before the financial crash of autumn 2008.
People here worry that it will be much harder to find a replacement now, in a very different economic environment.