Greece jails Abbot Ephraim in Mount Athos fraud case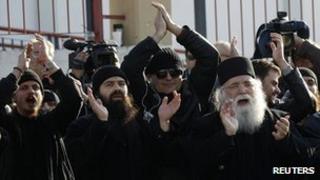 The abbot of the prestigious Vatopedi monastery on Mount Athos in Greece has been jailed pending trial for alleged fraud and embezzlement.
Abbot Ephraim, 56, is accused of arranging land swaps between Vatopedi and the state which are thought to have cost the government millions of euros.
The abbot, now being held in Korydallos prison in Athens, denies wrongdoing. His arrest has triggered protests.
The property scandal contributed to the conservative government's fall in 2009.
Greek Orthodox monks rallied outside the prison in support of Abbot Ephraim on Wednesday.
Russia's foreign ministry and the Russian Orthodox Church also criticised the imprisonment of Abbot Ephraim.
No trial date has been set yet.
Controversial deal
Vatopedi is part of the ancient Mount Athos monastic community that has been visited by Britain's Prince Charles and Russia's Prime Minister Vladimir Putin.
The controversial deal saw valuable state land traded for less valuable land held by Vatopedi. It is said to have cost the state some 100 million euros (£83m).
The Russian Orthodox Church's head of foreign relations, Metropolitan Ilarion, called the abbot's detention "an extraordinary event, arousing profound bewilderment".
And the Russian foreign ministry said: "We are deeply concerned by the ruling of the Greek judiciary to put him under pre-trial detention, despite the recommendations of the European Court of Human Rights".
Greece's right-wing Laos party, which is in the governing coalition, also condemned the abbot's arrest.
"They rushed Ephraim to jail on Christmas Eve while others who have embezzled Greek people's money remain at large," said Laos leader George Karatzaferis.
Justice Minister Miltiadis Papaioannou hit back, accusing the critics of "interfering in the work of the justice system".