Moscow rally halted amid arrests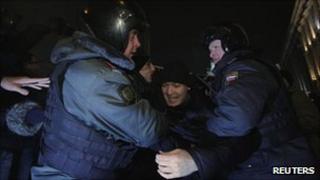 Russian police have arrested protesters trying to attend a Moscow rally.
Around a dozen demonstrators were ushered onto police buses in central Moscow by riot police, reports said.
The rallies, held on the last day of each month with 31 days, defend Article 31 of Russia's constitution, which guarantees the right of assembly.
Some of those arrested wore white ribbons, the sign of an ongoing protest against parliamentary elections won by PM Vladimir Putin's ruling party.
White ribbons have begun appearing not only on blogs but on cars and in buttonholes, correspondents say.
One of those reportedly detained was Eduard Limonov, an opposition leader and author who has been detained at several end-of-month rallies calling for more democratic freedoms.
Small protests were also reported in other Russian cities.