Kiro Gligorov, Macedonian independence leader dead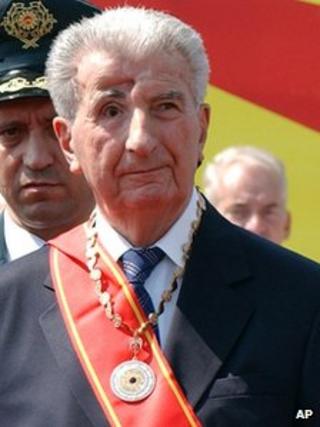 The man considered the architect of Macedonian independence, Kiro Gligorov, has died aged 94.
A former senior Yugoslav communist official, he was elected as Macedonia's president in 1991 while it was still a Yugoslav republic.
After guiding the country through the break-up of Yugoslavia, he served two terms as leader until 1999.
Kiro Gligorov was badly wounded in an car bomb attack in 1995 that killed his driver and a bystander.
He lost an eye and spent four months in hospital, eventually returning to work with severe facial scarring.
The attackers have never been brought to justice.
During his period in office, the country joined the United Nations as Former Yugoslav Republic of Macedonia because of an enduring dispute with Greece, which has a northern province also called Macedonia.
Failure to resolve the dispute has slowed Macedonia's attempts to enter Nato and the EU.
Born in 1917, Kiro Gligorov graduated as a lawyer and joined the partisans fighting against Nazi occupation during World War II.
He filled a series of posts in Yugoslavia's communist government, including deputy prime minister.
His funeral is due to be held on Tuesday in the capital, Skopje.