Norway killer Breivik is 'not psychotic', say experts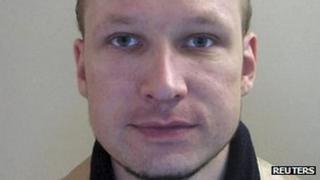 Experts monitoring the Norwegian killer, Anders Behring Breivik, say they believe he is not psychotic, contradicting court-appointed psychiatrists.
A team of experts reached the conclusion after monitoring Breivik in prison, said the public prosecutor who submitted their report to the court.
Breivik admits to twin attacks on 22 July 2011, which killed 77 people.
The original psychiatric analysis said he was insane.
The two court-appointed psychiatrists reached this conclusion after interviewing him on 13 occasions.
Their report said 32 year-old Breivik lived in his "own delusional universe where all his thoughts and acts are guided by his delusions".
The expert team of four psychiatrists assessing Breivik in prison disagreed with several of the original conclusions.
According to the report submitted by the Public Prosecutor, Svein Holden, they do not believe Breivik is psychotic or schizophrenic and do not think he needs drugs.
In addition they do not regard him as being at high risk of committing suicide.
'Scientific controversy'
Breivik is due to go on trial on terrorism charges on 16 April, regardless of whether or not he is regarded as sane.
As things stand, a guilty verdict would see him placed in psychiatric care rather than in prison.
The court is expected to decide within the next few weeks whether or not to order a new psychiatric evaluation.
Mr Holden said he would not be calling for a new assessment, despite the conclusions in the latest report.
A lawyer representing the families of three of Breivik's victims, John Arild Aasen, told Norway's TV2 channel the latest assessment was very important.
"It indicates that there is considerable scientific controversy and the necessity for further investigations, obviously," he said.
"We are afraid that the conversations that the experts have had with Breivik are not sufficient to reveal his real psychiatric situation."
Asked what his clients' thought, Mr Arild Aasen answered: "Their biggest fear is that he will be out on the street again in a few years".
Lawyers for Anders Behring Breivik say they are opposed to any new assessment.
"There is already a very detailed forensic medicine evaluation of the accused," lawyer Vibeke Hein Baera said in a letter released by the court.
Lasting impact
Breivik's killings on 22 July were the worst act of violence Norway has seen since World War II, and have had a profound impact there.
He disguised himself as a police officer to plant a car bomb that exploded close to government offices in the capital Oslo, killing eight people.
Still in uniform, he then drove to the island of Utoeya, where a summer youth camp of Norway's governing Labour Party was being held.
In a shooting spree that lasted more than an hour, he killed 69 people - mostly teenagers.
Breivik has admitted carrying out the attacks but has pleaded not guilty to the charges he is facing.
He says the attacks were atrocious but necessary for his campaign to defend Europe against a Muslim invasion.