Russian Church head Kirill urges Kremlin policy change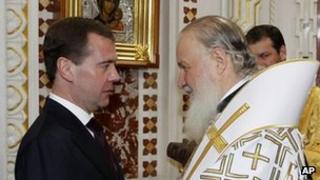 The head of the Russian Orthodox Church has said the Kremlin should heed the recent mass protests over ballot-rigging and adjust its policies.
In a televised message on Orthodox Christmas Day, Patriarch Kirill said it would be a "very bad sign" if the authorities ignored the protesters.
He added that he could not take sides in the election dispute.
However the Church, which counts about 70% of Russians as members, has close links to the Kremlin.
It is unclear whether this is the patriarch's first comment on the election protests which gripped Moscow last month, but Russian commentators said it was unexpected.
The last big rally, on 24 December, drew as many as 100,000 people to central Moscow in the biggest anti-government demonstration since Soviet times.
It was called to protest at the conduct of parliamentary elections on 4 December, which were seen as a test of the electoral system ahead of a presidential election in March that Prime Minister Vladimir Putin is contesting. Mr Putin served two terms as Russian president before becoming prime minister.
"The main thing is to translate correctly expressed protests into a policy adjustment," the patriarch said in Saturday's broadcast.
"If the authorities remain insensitive to the expression of protests, it is a very bad sign, a sign of the authorities' inability to adjust themselves."
The Church could not take sides over the elections, he said, because it had members "among both those on the square and those who were being opposed on the square".
Patriarch Kirill congratulated Russian President Dmitry Medvedev when they met at a Christmas Eve service in Moscow's Christ The Saviour Cathedral on Friday night.