Chinese mourn father and daughter murdered in Rome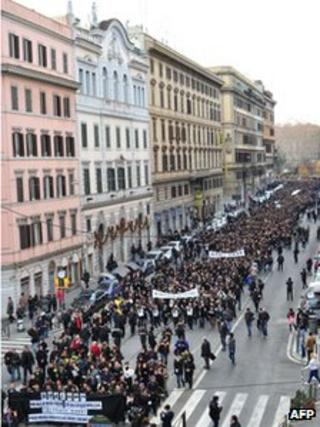 Italy's Chinese communities have been mourning a father and his baby daughter shot by robbers in Rome last week, and are demanding better security.
Thousands of people marched from the centre of the capital to the suburb where bar owner Zhou Zheng and Joy, who was less than a year old, were killed.
Mourners carried white candles and flowers, and a long white banner bearing signatures.
Police are hunting two Moroccan men suspected of the murders.
They say the two men confronted Mr Zheng, his wife Lia and his daughter last Wednesday night at their bar in the Torpignattara district, demanding the family's takings of 3,000 euros (£2,480; $3,830).
When the family refused, the robbers stabbed and wounded the wife and opened fire, killing the 31-year-old father and his daughter.
China's ambassador to Rome, Ding Wei, expressed "shock and dismay" over the murders and called on police to act fast to catch the killers, AFP news agency reports.
The Italian capital is home to about 50,000 Chinese nationals.
'The mafia comes'
Demonstrators could be seen weeping among the crowd which assembled on Tuesday in the central district of Piazza Vittorio, where many ethnic Chinese people work.
A banner read "No to violence. Yes to more security" and large photographs of the victims were carried by some.
"This procession has been organised as a sign of mourning and to ask more security, safety and no violence," Yuha Zhu told the Associated Press news agency, just before joining the procession.
Mario Zhang, who owns a Chinese restaurant, said: 'Today I am saying goodbye to my long-time friend, who died.
Marco Wong, head of the Associna community group, told AFP that many transactions within the Chinese community were done in cash.
"That's why the people here become natural targets," he said.
Another community activist, Lucia King, said: "People are exasperated.
"Some people have been robbed or mugged six or seven times."
'Crime wave'
Italian politicians and members of other ethnic communities such as Bangladeshis and Moroccans, joined the procession in Rome.
Marco Cappa, who heads the youth wing of the European Parliament's centrist European Democratic Party group, was among those taking part.
"It was so nice that Italians, Chinese and all the communities of foreign people were marching together," he told the BBC News website.
A solidarity rally was also held in Italy's business capital, Milan.
The Chinese consul in Florence, Zhou Yunqi, said Chinese people should be "ready to defend themselves".
"They need to be more aware of the risks they take when they carry sums of money in cash," he added.
Italian President Giorgio Napolitano has visited Mr Zheng's widow in hospital to express his condolences.
Gianni Alemanno, Rome's centre-right mayor, promised a crackdown on crime but he was accused by political opponents of failing to control violent crime in the city.
Marco Cappa called on Mr Alemanno to resign.
"There is the will to stop the crime wave that is sweeping the capital," he said.
"It is an exceptional security emergency and exceptional should be the response because such a tragedy cannot be unpunished. Yesterday, Romans stood up for this."
Police are seeking two Moroccan men, aged 30 and 20, who were recorded by CCTV fleeing the murder scene on a scooter.
The older suspect was previously jailed in Italy for robbery and receiving stolen goods but did not leave the country as required at the end of his sentence, the Italian news website Tgcom24 reports.