Turkey police raids on Kurdish nationalist activists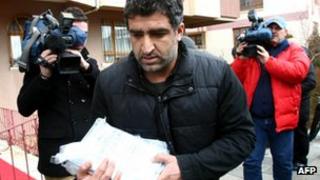 At least 30 people have been arrested in Turkey as part of an inquiry into alleged links between Kurdish activists and violent separatists.
Turkish police carried out raids on more than 100 homes and offices.
The operation focused on members of the Peace and Democracy Party (BDP), the largest Kurdish party in parliament.
Over the past year hundreds of Kurdish activists, journalists and politicians have been detained under anti-terrorism legislation.
Those targeted in the latest operation, carried out in 17 cities, include prominent Kurdish politician Leyla Zana.
Officials said police seized documents and computers from her home, Reuters reports.
Ms Zana previously served 10 years in prison for using the Kurdish language inside parliament.
Ongoing conflict
The government says it is combating the banned Kurdish Workers Party (PKK).
Many of those detained have links to a Kurdish umbrella movement known as the Kurdish Communities Union (KCK), which the government accuses of links to PKK insurgents.
In October Turkey launched a major air and land offensive against the rebels near the Iraqi border after 24 of its troops were killed in an ambush.
Two weeks ago 35 civilians were killed in a botched air raid by the Turkish military.
The authorities have been carrying out a parallel campaign in urban areas for months. Hundreds of civilians have also been rounded up in police raids.
There have been so many arrests no-one is sure of the total number detained, the BBC's Jonathan Head in Istanbul says.
The use of anti-terrorism legislation by the Turkish authorities has been widely criticised, most recently by the Council of Europe, which said it was having a "chilling effect" on freedom of speech.